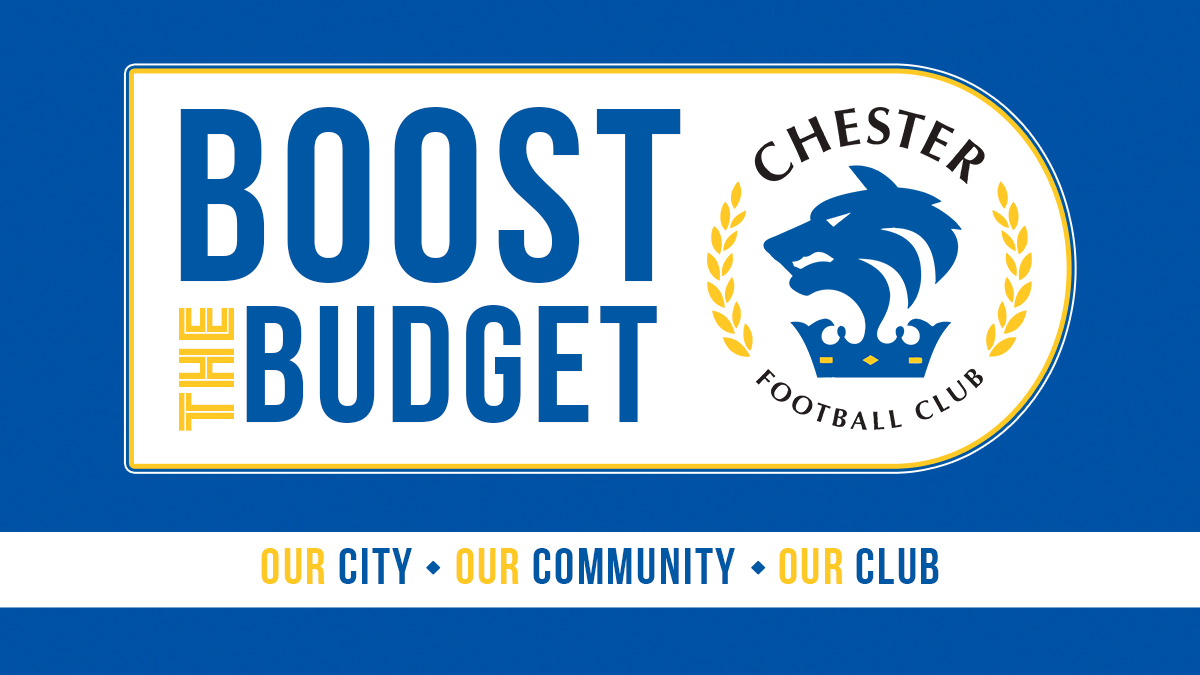 BOOST THE BUDGET | March 2021 Update
Last summer Chester FC launched the most ambitious fundraiser in its history, Boost the Budget. The response was staggering as our supporters raised more than £115,000 for the first-team budget in seven weeks.
At the time of its launch it was clear Boost the Budget would be vital in helping us meet the challenges of the pandemic, but it became even more crucial as the season progressed with the initial unfair allocation of grants, the continuing absence of crowds and the failure to provide grants from January onwards placing significant pressure on the club's finances.
Without Boost the Budget, there is little doubt the club would have been forced into difficult decisions to ensure its survival but, in spite of the challenges faced, your pledges enabled the managers to assemble a talented squad that was challenging for promotion and playing fantastic football before the season was cut short.
We have been overwhelmed at the success of Boost the Budget and your support for the scheme with an extremely small number of cancellations. Looking to the future, Boost the Budget will continue to be hugely important and we hope you support it again nexr season.
We will be announcing more details about Boost the Budget 2021/22 soon but it has already helped us retain two key players in captain George Glendon and Declan Weeks. If you currently make a monthly pledge and wish to keep contributing at the same level then you don't have to do anything as it will continue.
Coronavirus restrictions, social distancing and the uncertainty in which the club has been operating mean it has not been possible to fulfil some of the special rewards and we appreciate your understanding. Following the curtailment of the 2020/21 season, we can now provide an update regarding the fulfilment of these rewards:
Tier 1: Our City
Fan experience draw: We have been unable to offer these one-off experiences due to the restrictions that have been in place. The draws will now take place in March, April and May with the winners receiving their experiences for the 2021/22 season.
Tier 2: Our Community
Child season's tickets: More than 400 child season's tickets will be donated to the Community Trust to support its work locally. Eligible contributors will receive an e-certificate as a special thanks in March. It is our intention to distribute these season tickets for the 2021/22 campaign, however this is subject to guidance on crowds.
Limited edition pin badge: The unique pin badges celebrating a decade of Chester FC have now been received and we will be distributing these this month. Eligible contributors will receive an email with further details shortly.
Tier 3: Our Club
Buy a Brick: The specially designed bricks will be ordered and installed during the close season. Contributors who selected this reward will be contacted to confirm your chosen name and message shortly.
Squad photo: We have been unable to have a traditional squad photo this season so we now plan to organise this ahead of the 2021/22 campaign, subject to restrictions.
Pick the playlist: With fans unable to attend matches and listen to your selections at present, these will be rolled over into next season.
Tier 4: Club Hero
End of season awards tickets: Unfortunately we will not be able to hold a traditional end of season celebration so tickets will be rolled over to next season.
Tier 5: Club Legend
Special meal with the management team: We now plan to organise this meal prior to the start of the 2021/22 season, subject to the restrictions in place at that time.
If you have still to confirm your chosen reward or have any questions, email boost@chesterfc.com.
You can make a one-off contribution or monthly pledge to Boost the Budget at anytime so if you've not yet signed up, you can do so below: