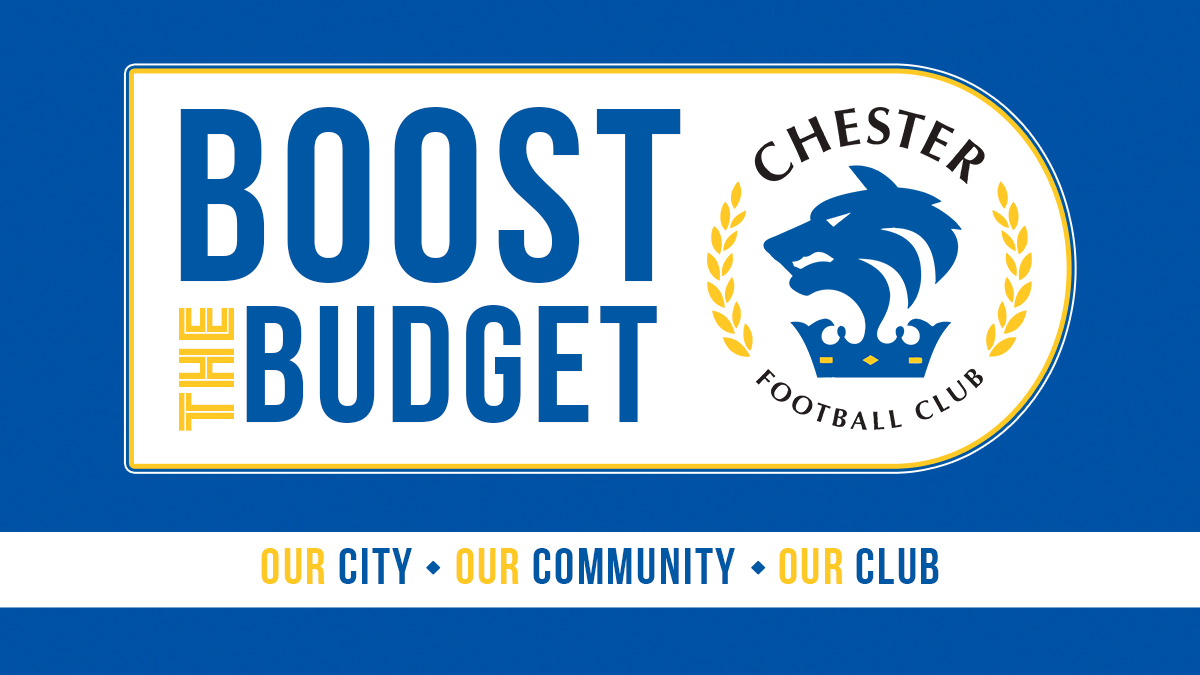 BOOST THE BUDGET | Prize draw to raise funds for 20/21!
The Chester FC #InItTogether Prize Draw is to continue – with all donations now going into the Boost the Budget campaign!
Last week, the draw was launched ahead of the Play-Offs; giving one supporter a unique opportunity to be part of next season's squad!
With the Blues eliminated following a brave effort at Altrincham and attentions now turning to the 2020/21 season, any surplus raised in the #InItTogether campaign will now be donated to Boost the Budget.
Donations to both schemes have been incredible, with over £18,000 raised for the Crowdfunder and £114,000 now pledged for Boost the Budget with the deadline this coming Friday.
The way to enter the prize draw stays exactly the same, simply hit the donate £10 prize draw option on our Crowdfunder page (bit.ly/CFCInItTogether) by Tuesday 28th July (3pm) to enter.
The draw will be made on Saturday 1st August, and this is your chance to win one of six brilliant prizes!
This includes a place in the team photo for the 2020/21 campaign and your name and chosen shirt number listed as part of the squad on matchday programme throughout the season.
You can enter as many times as you wish. Just head to the Crowdfunder page, choose the #InItTogether Prize Draw reward and pledge.
Once we have received our share of the streaming revenue from Sunday's match and we have been able to confirm our final costs for competing in the Play-Offs, the surplus balance will be added to Boost the Budget.
The full list of prizes can be found below:
1 Part of the Squad – You will line up alongside the players in the 2020/21 team photo in the kit and have your name and shirt number printed as part of the squad on the back of the matchday programme
2 Director for a Day – You and a friend will enjoy pre-match and half-time hospitality in the Board Room and watch the game from the director's seats in the Gary Talbot Stand
3 Signed Chester FC home shirt – A new Kappa home shirt signed by the 2020/21 squad
4 Signed Chester FC away shirt – A new Kappa away shirt signed by the 2020/21 squad
5 Framed retro Chester City FC 1989/90 home shirt  
6 Football signed by the 2020/21 Chester FC squad 
Thank you for your incredible support through the Play-Offs and donating to make sure the Blues can hit the ground running in 20/21. Good luck in the prize draw!
Go to www.crowdfunder.co.uk/chester-fc-in-it-together to pledge now!