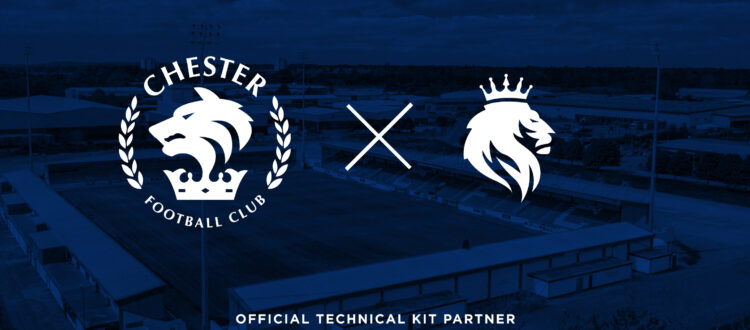 BREAKING | Hope + Glory announced as our new Technical Kit Partner!
Chester Football Club are delighted to announce Hope + Glory as our new Technical Kit Partner, having signed an initial three-year deal with the Blues! 
Starting our partnership for the 2023/24 campaign, the Oldham-based company were selected following an in-depth procurement process.
City Fans United members will be contacted soon to be a part of the voting process for our new kits.  Make sure you have your say, become a CFU member today – it's just £12 a year! Visit cityfansunited.com to sign up.
Hope + Glory are a specialist sportswear company designing and manufacturing bespoke football kits and training wear. They work with professional league clubs, as well as semi-pro, amateur and grass roots clubs to create high quality bespoke teamwear.
Unlike many other bespoke teamwear brands, every step of the production process takes place under one roof – this cuts manufacturing lead times – and means they have the capability to manufacture high quality bespoke kits significantly quicker than their competitors.
CFU Chair Kieron Shiel commented on the news: "Myself and Georgina have been through a very rigorous and detailed procurement process to come to this decision with the Board and I know it's one that's right for the Club, the Fans and the Environment.
"I'm delighted to welcome Hope + Glory to the Chester FC family and also to be part of theirs."
This news means our three-year partnership with Kappa comes to an end at the end of this season's campaign. We would like to place on record our thanks to them for their support over these past three seasons.
As part of today's announcement, we are also proud to be working alongside Hope + Glory to produce an 'EcoKit' that will be worn by First Team, Academy and Women's Teams, as well as available for supporters to purchase, as we play our part in helping to protect the planet.
These kits are a part of a commitment to a sustainable future, making football kits using rPET (Recycled Polyethylene Terephthalate) with a lower environmental impact. Both the shirt and shorts are made from rPET fabric, which is made from recycled plastic bottles that have been melted down to produce a fine yarn.
Sarah Dennis, Hope + Glory Director, said: "Chester FC are the perfect fit for Hope + Glory due to their ambitions and relentless desire to succeed, on the pitch and with their partners. We are beyond excited to be partnering with the club.
"As well as new bespoke home and away kits we will be working alongside the club to develop a wider and more diverse merchandise range for the fans.
"We can't wait to get started with them and challenge each other to raise the bar in everything we will do together."
Everyone at Chester FC is delighted to have Hope + Glory on board and we look forward to a long and successful partnership!