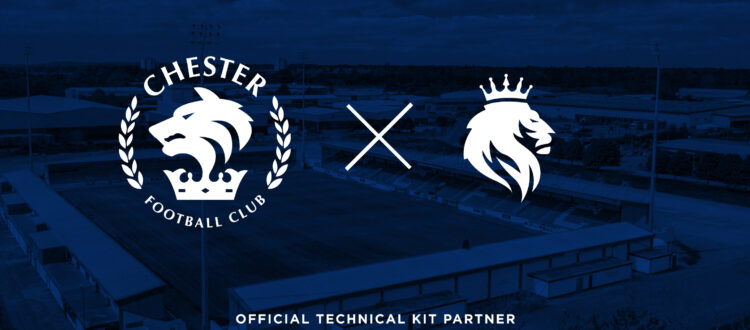 NEWS | Kit options for 2023/24 revealed! 
Chester FC are delighted to reveal the options for your home and away shirts for the 2023/24 campaign.
As announced on Monday, the Blues have signed an initial three-year deal with Hope + Glory as our new Technical Kit Partner. 
There's two options available for both home and away for City Fans United members to vote on, with concepts on all shirts inspired by the Chester Cathedral and the famous black and white Tudor buildings.
Members will be contacted via email today. Please vote for your favourite home shirt (A or B) AND your favourite away shirt (A or B). If you have not received an email by the end of the day, please email fansfirst@chesterfc.com with your membership number. Voting closes at 6pm on Tuesday 11th April, with the winners revealed in The Cestrian Match Programme prior to our game on Saturday 15th April vs Farsley Celtic!
HOME SHIRT – OPTION A
HOME SHIRT – OPTION B
AWAY SHIRT – OPTION A
AWAY SHIRT – OPTION B
Ric Dennis, Hope + Glory Founder, explained the design consideration in further detail: "The creative inspiration for the designs of the 2023/24 Chester FC home and away kits have been taken from the wealth of iconic buildings and landmarks in the beautiful City of Chester.
"The City's famous Cathedral has many features that could have been incorporated into the designs. We have taken the shape and detailing from one of the many arched windows at the Cathedral to play hero in home concept 'A' and both away concepts. In both home and away concept 'A' the icon is in its entirety and hero in a tone of the main shirt colour both front and back of the shirt, whereas for away concept 'B' the icon has been cropped into tiles emphasising the finer details of the window. 
"For home concept 'B', inspiration has been taken from the patterns found in Chester's famous black and white Tudor buildings and again implemented into the design using tones of the shirt colours. 
"Creating concepts that carry elements of design from around the City we feel is important to both the club and its fans to connect with the kit that will be worn by players and supporters alike."