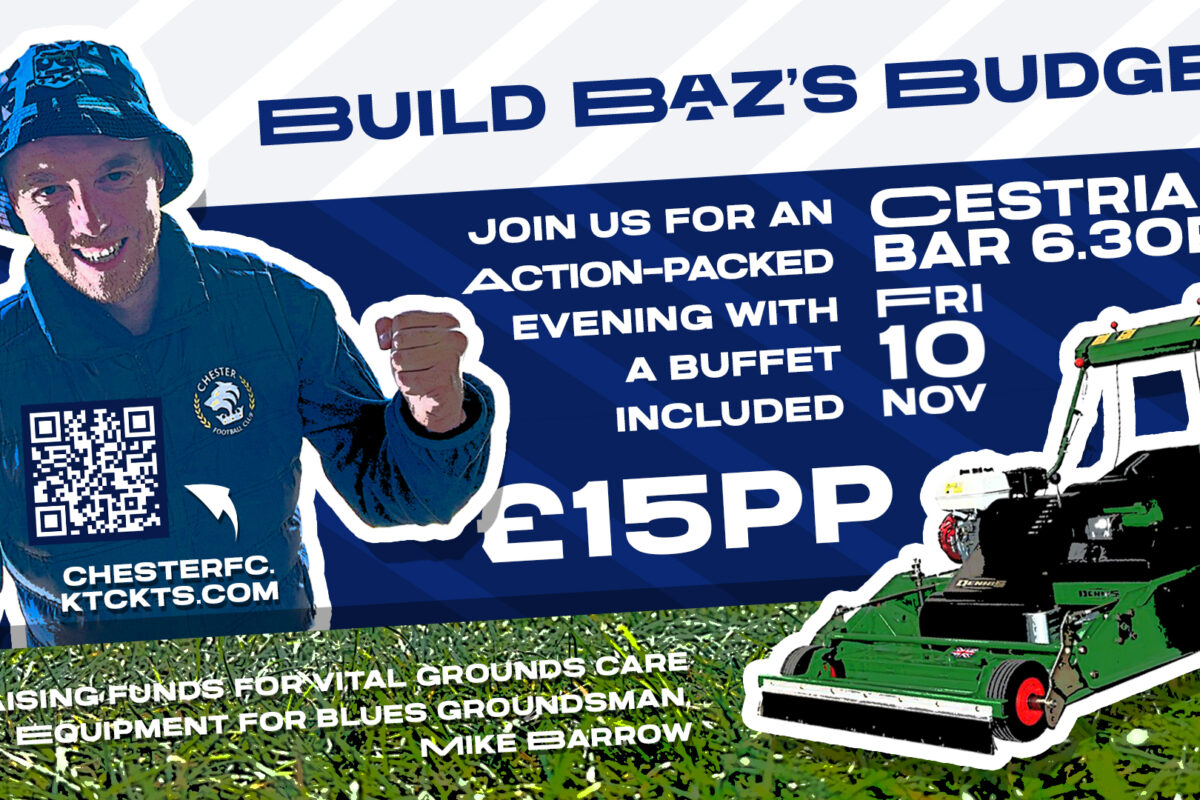 Build Baz's Budget is THIS FRIDAY!
The Build Baz's Budget fundraiser takes place in The Cestrian Bar this Friday!
Starting at 6.30pm at the ground, the purpose of the event is to raise funds for vital grounds care equipment for Blues Groundsman, Mike Barrow.
Tickets are just £15 (link below), and here's what's happening at the event on the night…
AUCTION PRIZES
An auction at the event will be taking place with every penny going into Baz's Budget! Some of the incredible, rare prizes include…
A worn Greg Stones Chester FC shirt from our first ever league game at Warrington Town in 2010 (thanks to Kev Gentile for making this donation)
Signed, worn pair of Harry Tyrer's boots
A limited edition pink shirt signed by midfield duo George Glendon and Declan Weeks
Signed, worn Kieron Coates and Iwan Murray shirts from 2022/23
Signed, framed picture of Calum McIntyre
A Ginger Cat Coffee Voucher
A FREE room hire for The Cestrian
Family ticket for four for this season
A one week Chester FC Soccer School booking
CHESTER FC SUBBUTEO
Fancy playing on the Leap76 Stadium pitch in subbuteo form? Thanks to Lee Davies and his expert team – you'll get the chance this Friday!
Buckets will be available on the night for small donations in order to play Subbuteo at the Deva – come down and take a look at the detail on offer.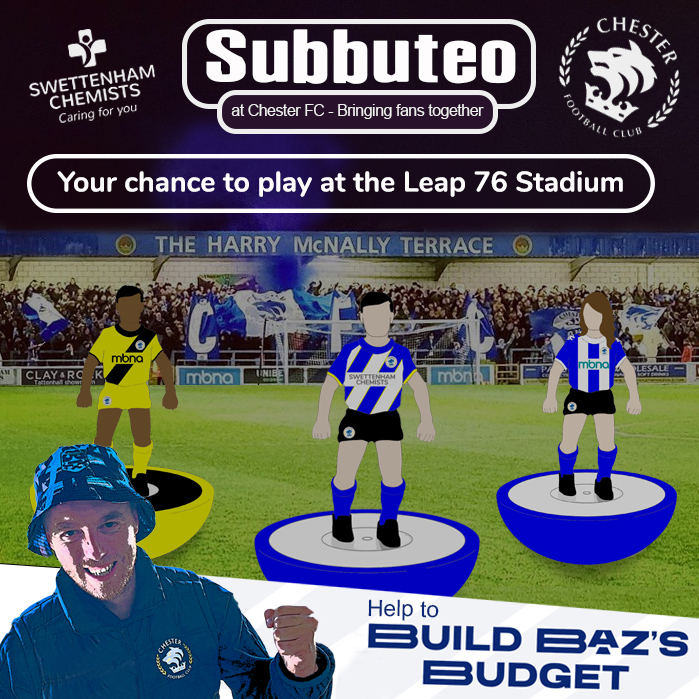 TICKETS
Tickets are still available through Kaizen at just £15 per person. Children are able to come along without a ticket.
CLICK HERE TO BUY YOUR TICKETS FOR THE EVENT!
Your ticket includes access to the event plus a buffet – plus we're delighted to welcome some special guests – including Blues Manager Calum McIntyre!
RAFFALL
Run through Raffall, we're doing an online raffle separate to the auction for supporters who are unable to event the event. It's just £5 a ticket with plenty of exciting and exclusive prizes on offer, including…
Loaded Fries for the remainder of the season (one portion per matchday)
Signed, worn Liam Edwards 49 away shirt 2023/24
Family ticket for four for a game this season
Signed, framed picture of Calum McIntyre, Kieran Coates and Kole Hall
A bundle of Chester FC 2022/23 worn away shirts
CLICK HERE TO BUY YOUR RAFFLE TICKETS!
The winners will be revealed on Friday the 10th when the raffle closes at 5pm.
————————————————————————————————————————————
Let's work together and Build Baz's Budget!