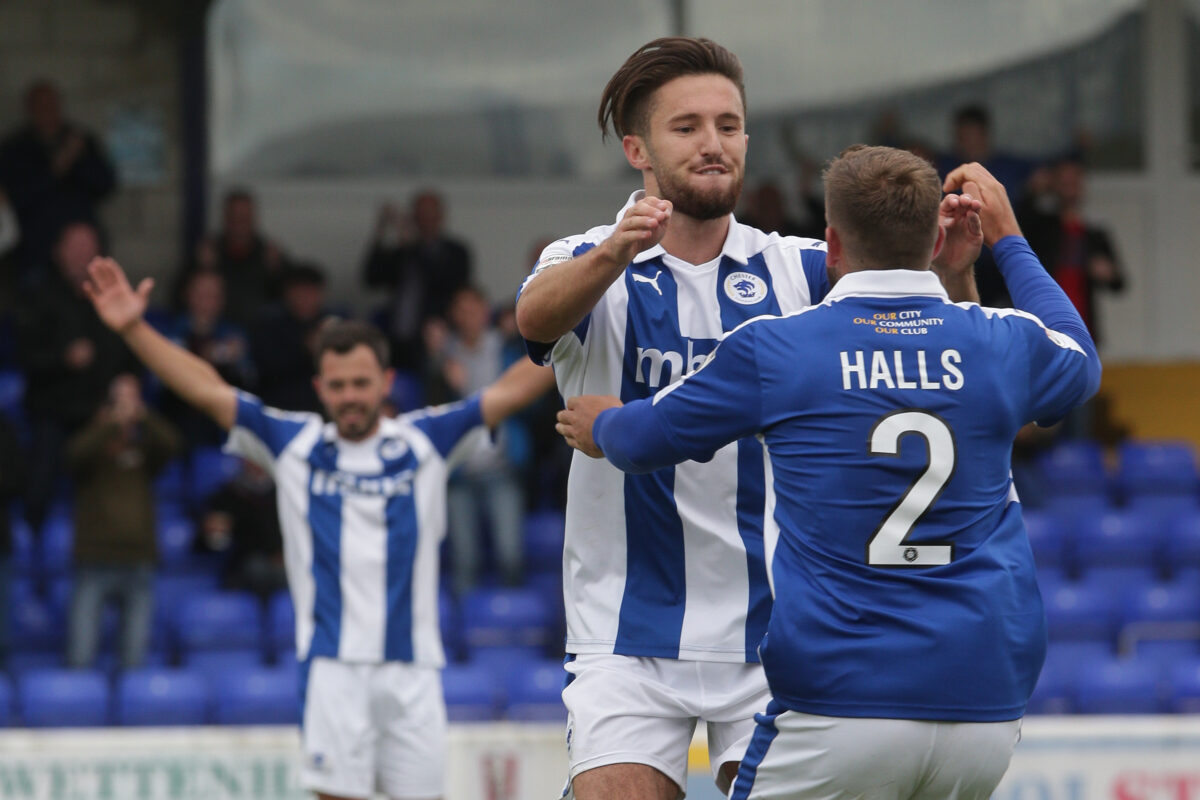 Chester 2-3 Sutton United
The Blues were handed their first league defeat of the season as a spirited effort was not enough to deny a Kieran Cadogan injury time winner.
The Sutton United substitute latched onto a pass from striker Ross Lafayette before delicately flicking the ball over a stranded Mitchell and denying the Blues what would have been a valiant point.
Sutton started the first half the stronger of the two sides, and were rewarded in the 5th minute with a strike from centre half Louis John, rifling the ball into the top left corner.
Chester struggled to generate a response and found themselves pegged back in their own half for the opening 20 minutes. The loss of Ross Hannah to injury further added to the woes of Jon McCarthy's men, with the boss resorting to a lone striker formation which left Akintunde increasingly isolated.
The Blues mustered a few half chances from Mahon and Dawson, but found themselves 2-0 down on the strike of half time as a well worked counter attack seen Sutton striker Tommy Wright sprint past Astles and beat Mitchell at his near post.
However Chester responded well and found themselves reducing the deficit almost immediately after kick off as Craig Mahon produced an unstoppable strike into the top left corner.
It was the lift McCarthy's side needed heading into the break and they came out looking a completely different side to the one that had slumbered in the first half. Although it could have been a different scenario had the referee not disallowed a Nicky Bailey indirect free kick, a decision which on reflection was a superb spot by the officials.
Chester then began to build the pressure on their visitors, and their pressure was rewarded in the 63rd minute. Lathaniel Rowe-Turner drove into space down the left flank, surging Blues forward. A great interchange saw the ball end at Dawson's feet, who buried a delightful finish past Sutton's Jamie Butler to pull Blues back level.
Chester continued to press and the game opened up, with both sides producing opportunities to take all three points. Kenny Davis came close for the visitors, and a Ryan Astles header narrowly sailed over the bar.
The winner came courtesy of a clever tactical change from Sutton manager Paul Boswell, who's introduction of Cadogan and Emmanuel caused problems against an injured McCombe. It was a tough pill to swallow for Chester, who were worthy of a point for their spirited second half fight back.
Next up for the Blues is a trip to Aldershot Town, and there are plenty of positives to have been taken from the encouraging second half performance.
Chester: Mitchell, Halls, McCombe, Astles, Rowe-Turner, Mahon, James, Turnbull, Dawson, Akintunde, Hannah (Chapell)
Sutton: Butler, Spence, John, Collins, Thomas, Dundas (Taylor), Eastmond, Bailey, Davis (Emmanuel), Lafayette, Wright (Cadogan)