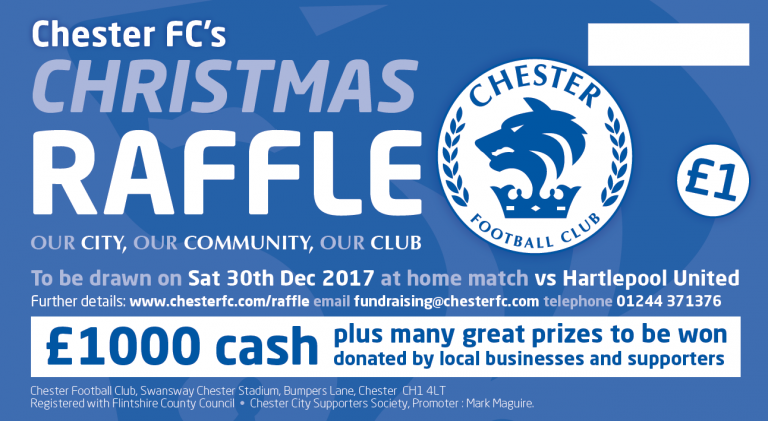 CHRISTMAS RAFFLE | It's returned!
Chester FC is pleased to announce the return of the Christmas Raffle for 2017 – with a top prize of £1,000!
Tickets for the raffle will be available from this Wednesday, November 8th, at our home match against Wrexham.
Chester FC supporters will have the opportunity to buy tickets on the night from CFU directors and volunteers posted around the ground and also pick up books of tickets to sell on to friends, family and work colleagues in the city and beyond.
The person who sells the most tickets will be awarded two tickets to the Legends Lounge and a meal for a match in 2018.
For those not able to make it on the night, tickets will be available at all the remaining home games before we draw the winners at half time at the match on December 30th against Hartlepool United.
Tickets are also available in the online shop, on application to the club by emailing fundraising@chesterfc.com or calling the office on 01244 371376. Those who returned raffle tickets by post last time will automatically get tickets sent to them in the post.
If you want to donate a prize to the raffle then please email fundraising@chesterfc.com
A full list of prizes is available on www.chesterfc.com/raffle and they are from a range of fantastic local businesses across Cheshire West and Chester. We want to thank them for their support.