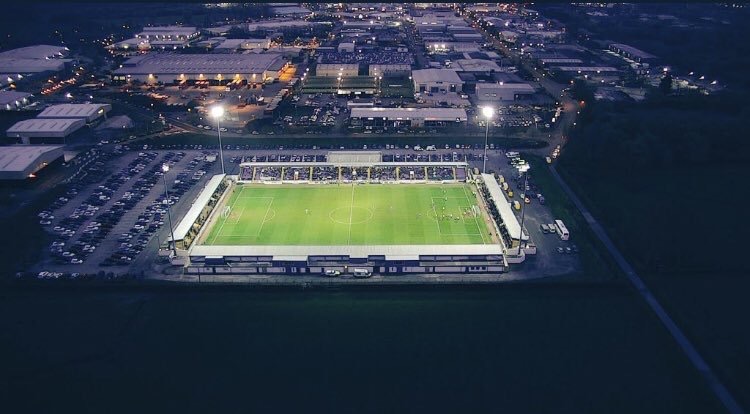 CLUB STATEMENT | Update from CFU Board of Directors
The Board of City Fans United can provide an update to supporters on the current position of Chester FC and preparations for the 2021/22 season.
The pandemic has presented us with extraordinary challenges and we are immensely proud of how we have worked together to overcome these. The impact on our revenues has been significant enough to have threatened the future of our Club if not for the incredible support of our fans and the sacrifices of our players, management, staff and volunteers.
Given the uncertain post-Covid football and economic landscapes, the Board anticipates further challenges in our recovery, however that we can approach these from a stable footing is testament to the collective efforts of everyone connected to our Club.
The Government's roadmap for lifting restrictions, the success of vaccines and the return of fans to stadiums gives hope for the future and we will endeavour to keep supporters updated on our progress as we approach the new season.
2021/22 Season Tickets
Season Ticket holders are now able to renew online with prices frozen for the 2021/22 season and thanks to online ticketing experts Kaizen, renewing is quick and simple.
If you prefer to renew in person, the Deva Stadium ticket office is now open for debit/credit card renewals with safety measures in place for the protection of staff, volunteers and visitors. You can also renew over the telephone by calling 01244 371376 during office hours.
The deadline for renewals is Sunday 13th June.
We plan to welcome new season ticket applications from Monday 21st June, assuming restrictions are lifted in line with the Government's roadmap.
Disabled supporters are advised to follow the process of renewing online and once complete, email jeff.banks@chesterfc.com with the details of the carer who will accompany them into the stadium (if applicable).
The move to online ticketing means fans will receive a season ticket card for 2021/22 with a barcode, which will be scanned at the turnstiles to gain access to the ground. Season ticket cards for 2020/21 will not be valid.
For more information, confirmation of prices and our FAQ section, visit our Season Ticket page HERE
Matchday Admission
The announcement that supporters will return to sporting venues this month is extremely welcome.
We have already made a number of changes to ensure it is safe for fans to return to the Deva Stadium and will continue to work closely with the Safety Advisory Group.
At the moment we do not know how many fans we will be allowed to admit, but the next stage of the Government's roadmap outlines a further easing of restrictions and should this happen, we hope this will mean a move towards pre-Covid crowds for the start of the 2021/22 season.
Boost the Budget
We are very grateful to supporters who have already confirmed they wish to continue contributing to Boost the Budget for next season.
The success of this scheme is a tremendous advert for supporter ownership as every pound you pledge or donate goes directly towards improving your team.
The Fundraising Working Group will be launching full details of the 2021/22 Boost the Budget campaign – including exclusive new rewards – soon but you can sign up now by emailing boost@chesterfc.com or clicking here.
CFU Memberships
Becoming a member of City Fans United – the owners of Chester FC – helps our Club become stronger.
If you are an existing member you can renew or sign up as a new member online at www.cityfansunited.com with memberships running until the end of May 2022.
If you pay your membership on Direct Debit or have a recurring payment set up on Paypal then you don't need to do anything as your payment will continue into the next membership year.
Membership costs the equivalent of £1 per month to become a co-owner of our Club as well as access to a fantastic range of exclusive member discounts.
CLICK HERE TO JOIN CITY FANS UNITED
Commercial
A new commercial brochure will be released shortly, however anyone interested in finding out more about sponsorship opportunities for the 2021/22 season, contact paul.bodman@chesterfc.com.
Pre-Season Friendlies
We have already announced a pre-season fixture with Bury AFC at the Deva Stadium on Saturday 17th July with ticket details to be released soon.
Further pre-season friendlies will be announced in the coming weeks.
Stadium Opening
The ticket office at the Deva Stadium has now reopened and is open from 9.30am to 4.30pm from Monday to Friday with our team of volunteers on hand to assist with Season Ticket renewals, CFU memberships and general enquiries. Please be advised that we have reached an agreement with VINCI Construction UK for a section of the stadium car park to be used as a temporary depot, and kindly request visitors please take note of the signage and access routes that have been put in place for everyone's safety.
Pitch Maintenance
We will be commencing an extensive pitch improvement programme this week that will ensure the Club continues to have one of the best playing surfaces in non-league football. The Board would like to acknowledge the work of groundsman Mike Barrow and his team of volunteers over the past 12 months in maintaining the pitch to a high standard in challenging circumstances.
Club Shop
The club shop remains closed at present, however you can continue to place orders online at www.chesterfcretail.com which will be fulfilled by our brilliant team of volunteers. Remember to follow the club shop on Twitter @chesterfcretail for the latest product launches, including the new yellow and black away kit.
Thank you again for your continued loyal support which we do not take for granted. We look forward to welcoming you back home for 2021/22.
The Board of Directors
City Fans United
Our City. Our Community. Our Club.