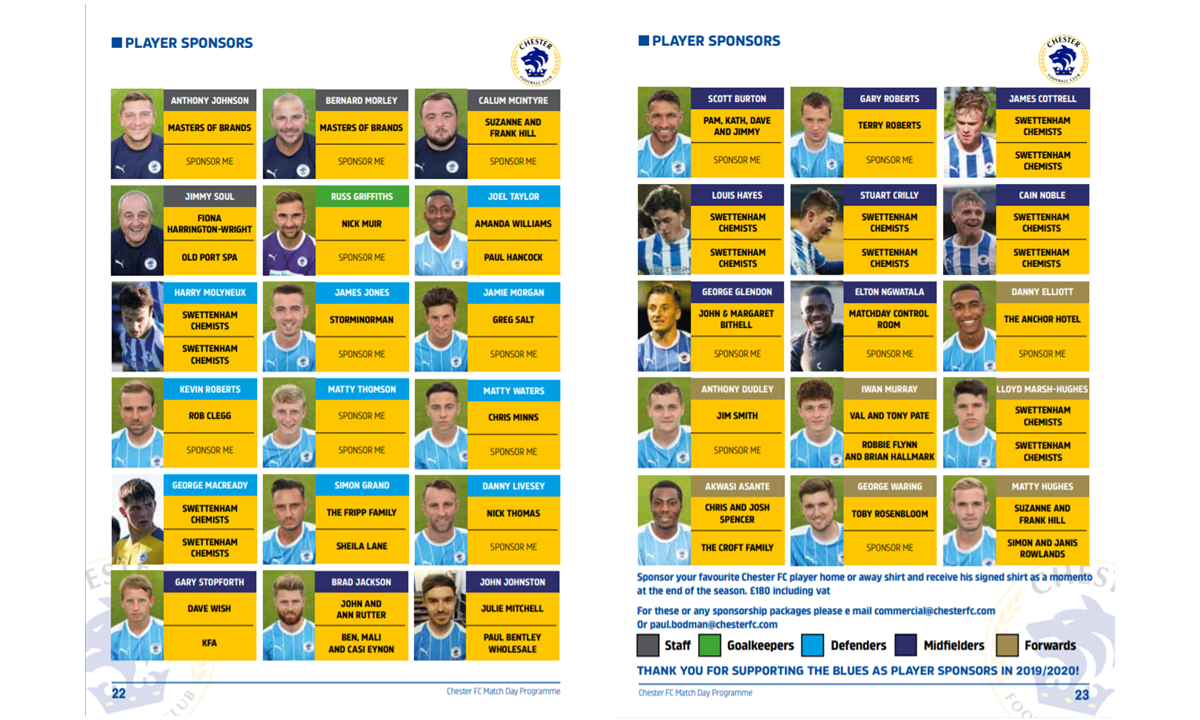 COMMERCIAL | Sponsor a Player for 20/21 – and time to collect your 19/20 shirt!
Chester Football Club Player Sponsorships for 2020/21 are now available!
We would firstly like to thank everyone who made a big difference to the football club by sponsoring a player for 2019/20. We can confirm that signed player-worn shirts that were sponsored will be available to be collected by their sponsors at the Deva Stadium from Tuesday 1st September to Friday 4th September from 10am to 4pm.
Collections will adhere to relevant social distancing and covid-secure protocols. Anyone that has not collected their shirt by next Friday will have their shirt posted out w/c Monday 7th September.
Our Player Sponsorship packages once again represent fantastic value for money going into the 2020/21 campaign.
Show your support for your favourite player, and promote your business at the same time – or even just pitch in with a few mates to sponsor one of our squad!
Home and away shirts cost just £180 (including VAT) for a full season sponsorship. Your brand will be featured in our matchday programme for every home game in the season, which will look exactly like the picture below! You also get a mention this season on your players' profile on our official website chesterfc.com.
Finally, you will get your players signed matchworn shirt at the end of the season.
Email Commercial Director Paul Bodman at paul.bodman@chesterfc.com any time or call 01244 371376 during office hours to sponsor your favourite player on a first come, first served basis. Don't miss out!