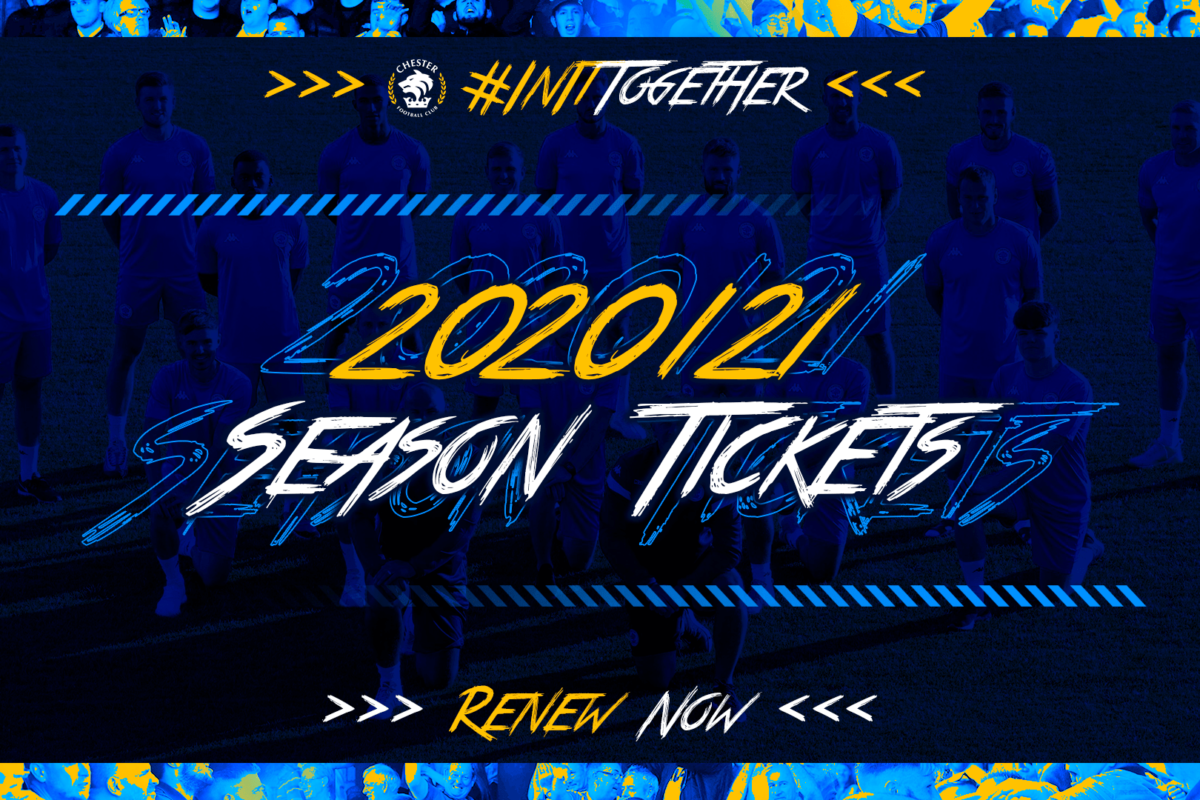 SEASON TICKETS | COVID-19 spectators code of conduct
Chester Football Club would like to update supporters on our 'code of conduct' ahead of a safe return to the Deva Stadium.
In order to assist our staff and stewards, and to help protect you and your fellow spectators, you are required to follow the guidelines below.
Failure to do so may result in you being prevented from attending subsequent games.
At all times and in all parts of the ground, please observe social distancing and avoid close contact with others not involved in your social bubble.
Arrive in good time to go through all the entry procedures.
Make sure in advance that you know where your entry point is, and, if an entry time is specified on your ticket, be there on time.
Be aware that your temperature might be taken on entry.
When inside the ground wear a mask at all times except when seated or standing to watch the game – unless you have a medical reason not to.
Inside the ground use contactless methods of payment where possible.
If you need to access any of the facilities when inside the ground, check that they are all in use and you know which way to go. Go straight to them and return after use.
The gangways at the front of stands and the access steps must be kept clear at all times to ensure routes are clear for anyone using the facilities.
When leaving your viewing position, wait until the gangway you are about to use is clear and follow any directional signage.
If you are seated, when moving past other spectators to and from your seat, avoid face to face contact with other spectators.
If you are standing, please stay within your social bubble and remain aware of the movements of others at all times.
Do not mix or dwell with people who are outside your social bubble.
Maintain good hand hygiene, use sanitisers provided and avoid touching your face or handles, railings etc. wherever possible.
Please observe respiratory etiquette – always cover your mouth if you need to cough or sneeze.
Avoid hugs, high fives and any close contact with people who are not within your social bubble.
Take care when shouting, singing or celebrating.
Supporters MUST NOT attend the stadium if they: 1) Have tested positive for Covid-19 in the last 14 days. 2) Have been contacted by an NHS Contact Tracer and been asked to self-isolate. 3) Are experiencing symptoms of Covid-19 or 4) Are in contact with a member of their household experiencing symptoms of Covid-19.
Anyone with suspected symptoms of Covid-19 will be refused entry to the ground.
If you are attending with other members of your social bubble, please make sure that they have read and understood these guidelines too.
Please note, the above info may be subject to change based on government advice. Any further information will be communicated where appropriate.