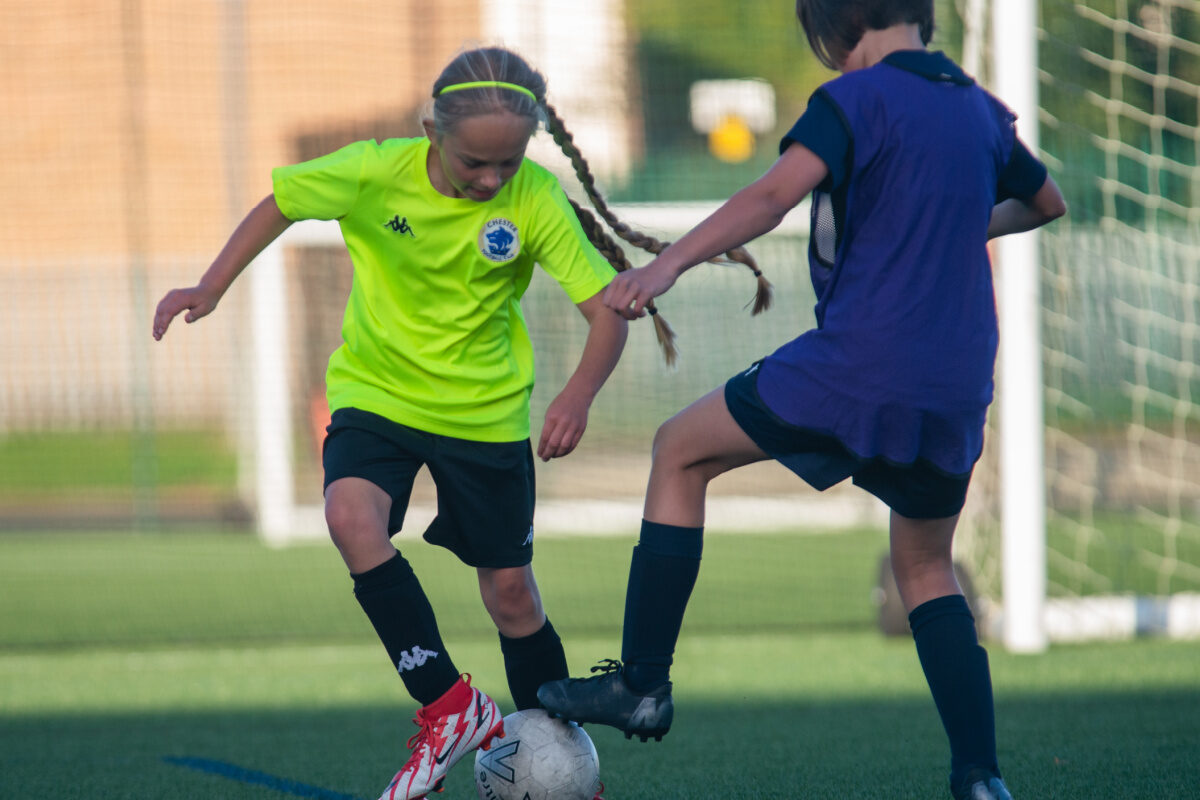 COMMUNITY | Get playing with Chester FC Community Trust
Following a fantastic summer of holiday clubs and football camps, Chester FC Community Trust has launched a number of new community sport sessions for children and adults.
The charity has now settled into its new home at King George V Community Sports Hub and is working in partnership with a range of organisations to ensure as many local people as possible have the opportunity to access and enjoy the facility.
The new sessions include walking football, girls' football programmes and disability football, with plans to add even more programmes in the near future!
For more information about any of these sessions and how to get involved, email community@chesterfc.com.
If you would like to find out more about the Community Trust's work, visit our website or follow us on Facebook, Instagram and Twitter.
Walking Football
Walking football features all the skill, tactics and fun of the beautiful game, but with one rule – no running!
It is a slow-paced version of the beautiful game initially designed for the over 50s, helping to increase physical activity and offering a route back into playing football for those who had to stop due to injuries.
Walking football is a fantastic way to keep fit and reduces the risk of injury and falls, while acting as a great way to meet new people
We run two sessions each week for men aged over 50 and one for women with players of all abilities and experience levels welcome.
Monday | 4pm-5pm | KGV Sports Hub | Men over 50 | £4
Thursday | 4pm-5pm | KGV Sports Hub | Women over 16 | £4
Friday | 12pm-1pm | KGV Sports Hub | Men over 50 | £4
Weetabix Wildcats
Weetabix Wildcats is non-competitive football for girls aged 5-11 who want to give it a go for the very first time or want to play with other girls their own age.
Sessions run on Wednesdays and girls will learn new football skills, make brilliant friendships and have fun together.
Football skills are incorporated into themed games and activities. Some of the favourite themes include pirates, jungle animals and superheroes – this also helps to engage children's imagination and develop their creativity.
Wednesday | 5pm-6pm | KGV Sports Hub | Girls aged 5-11 | £3
Squad Girls
Squad Girls is a programme created by England Football that offers fun, non-competitive football for girls aged 12-14.
Whether you're completely new to the sport, are looking to transition from Weetabix Wildcats, or simply want to give it a go, Squad Girls is designed to help develop skills and build confidence, whilst encouraging girls to play their way.
Squad Girls is a casual and flexible football option with players able to attend as many or as few sessions as they wish.
Fridays | 7pm-8pm | KGV Sports Hub | Girls aged 12-14 | £3
PAN-Disability Football
Chester FC PAN-Disability Football sessions provides weekly coaching sessions for children and adults with a disability or additional needs.
The inclusive sessions allow participants to play football, develop their skills and meet friends in a fun, safe environment with FA qualified coaches.
There is a junior session for ages 7-15 and a new adult session for over 16s, and the Community Trust also runs teams who represent Chester FC in the Cheshire Ability Counts League.
Tuesday | 5pm-6pm | KGV Sports Hub | Ages 7-15 | £4
Wednesday | 12pm-1pm | KGV Sports Hub | Over 16 | £4