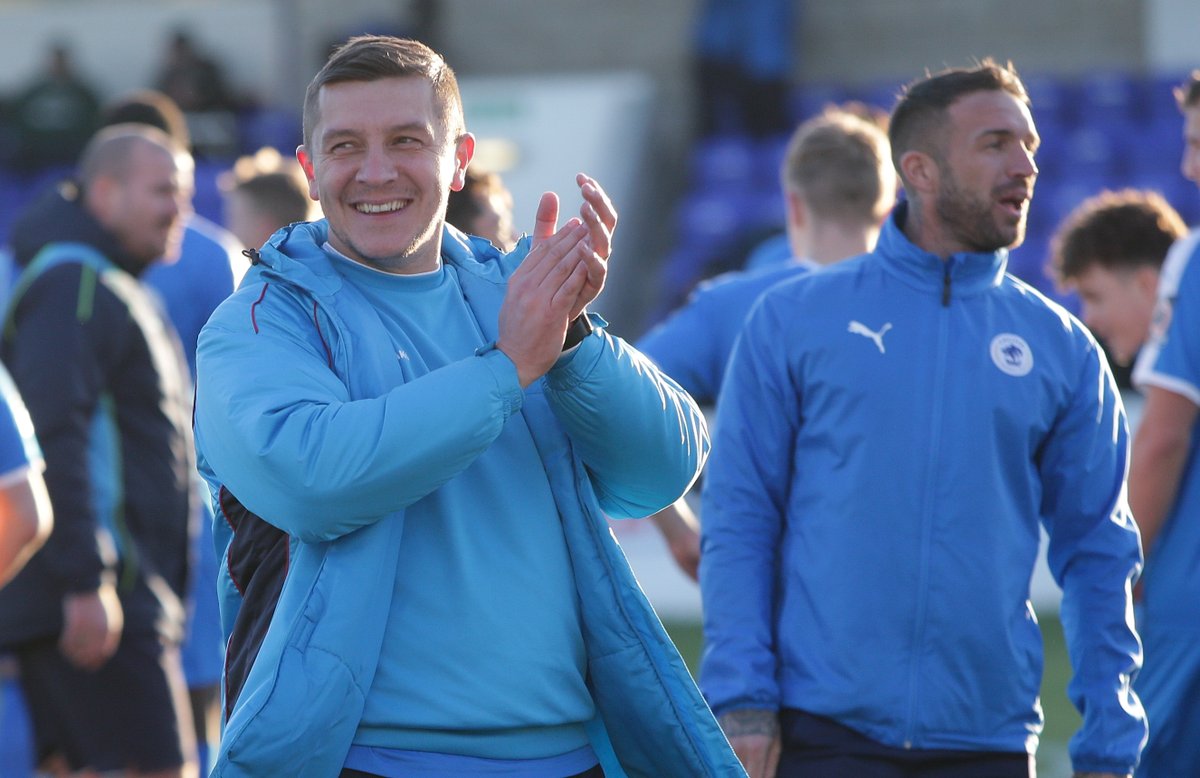 INTERVIEW | Jonno's passionate plea to the fans ahead of Telford game
Ahead of Saturday's clash with AFC Telford, Blues Joint Boss Anthony Johnson has this to say to YOU – the fans…
So far this season, we've averaged around 1800 fans for every home game.
Considering the storm damage and the rescheduled games – playing a lot of Tuesday night matches – that is a very good average attendance for a club in the sixth tier.
But, we want more.
We have – to date – the best home record in this division and have scored the most goals. This club won just five home games last season – so to have won seven of our opening ten home games means we are flying.
To match our lofty ambitions, we need to motor on in the second half of the season. We need to push forward and get those crowds above 2000 fans per home game.
We look at the game versus Darlington a month ago. We were a goal up and then had Dan Mooney sent off – meaning we played 65 minutes with ten men. Now, we are both aware Akwasi Asante was fantastic – but the supporters won us that game. The backing the lads got a man down inspired us and spurred the lads on to three points.
Then, the following weekend, we took 700 fans to Stockport County. In ten years of managing, that's the best atmosphere we have seen. We're starting the realise the difference that it makes. You are absolutely massive to this team.
Best home record in the league, most goals, coming off the back of last season we are flying.
The team work ethic and output is as high as it can be – those lads leave everything on the pitch. Be aware, there will be bumps in the road. We will lose games. But we will win more than we will lose and the supporters are a big part of that. You need to help get us over the line.
Fingers crossed, we are over the worst of our injuries now and hopefully we will also accompany that with some new players. This will aid a real big push into the second half of the season.
What are we asking of you? To keep coming down to support, back the lads and make it an intimidating atmosphere. But also, tell your mates. It's going pretty well at the Deva again – we need them to join you! If you take our goalless home draws out, there's pretty much an average of four and a half goals a match. The games are entertaining and value for money.
We stress to you – this is a team that you can be proud of. Win, lose or draw they are going to give you absolutely everything. But they'll mainly be winning we hope!
Let's make this Stadium a fortress. Let's intimidate the opposition. They need to know that once that whistle goes, it's their 11 lads versus our 11 – plus 2000 people. We promise you, this is a team to be proud of.