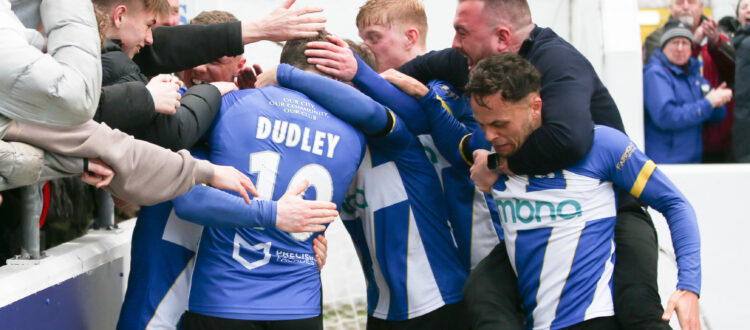 REPORT | CHESTER 1 – 0 BOSTON UNITED
Chester secured an important 1-0 win over Boston United to move up to fifth place in the Vanarama National League North.
After over 90 minutes of control, the Seals found a stoppage time winner after Player of the Match Declan Weeks drove a low effort into the far corner from just outside the box.
Chester looked to threaten early when Rhys Hughes found himself in some space in the middle of the park, the number 28 carried the ball before striking from range, but his effort went over the bar.
The Blues continued to attack on the 15th minute mark. Darren Stephenson pulled back a cross from the byline, which found the feet of Kevin Roberts. His shot was blocked before falling for Adam Thomas, whose stabbed effort was gathered by Boston goalkeeper Cameron Gregory.
The home side continued to ask questions of Boston; Hughes set Weeks 25-yards out of Gregory's net, and the Seals' Captain decided to try his luck from range, an effort of which Gregory could only divert for a Chester corner.
Rhys Hughes then lead another Chester attack, his well-weighted pass got Adam Thomas in behind Boston's backline but wide. The winger cut the ball back across the penalty area, which found Kurt Willoughby, but his shot was blocked by Pligrims defender Jo Cummings.
Minutes before half-time Chester came close to opening the scoring. Defender Matty Williams played a magnificent switch over to Stephenson on the opposite flank. After weighing up defender Tom Nixon, Stephenson cut inside and past his man, but his shot was saved by Gregory between the Boston sticks.
Chester had the first chance of the second half, Kieran Coates won a free kick on the right-hand side, which Hughes delivered towards the head of Liam Edwards. The ball just glanced off the wrong side of the defender's head and veered wide for a Boston goal kick.
78 minutes in and Callum McIntyre's men continued to seek an opening goal. A long ball was aimed for Stephenson who managed to flick a header onto Willoughby. The Blues' top scorer successfully held the ball up and teed up substitute Anthony Dudley for an effort at goal, but his left-footed shot could only find the roof of the Harry McNally Terrace.
The Seals continued to search for a winner inside the five minutes of added time, Roberts received the ball on the right-hand side and was in position to cross. Doing just that, he found Dudley who strikes a pragmatic volley at goal, but once again it sails over.
Finally, after 90 minutes of pressure, Chester took the lead. Weeks – who had already been announced as Player of the Match – shifted the ball onto his favoured right foot on the edge of the area and let fire, with the ball going across the 'keeper and sneaking into the far corner via the inside of the post.