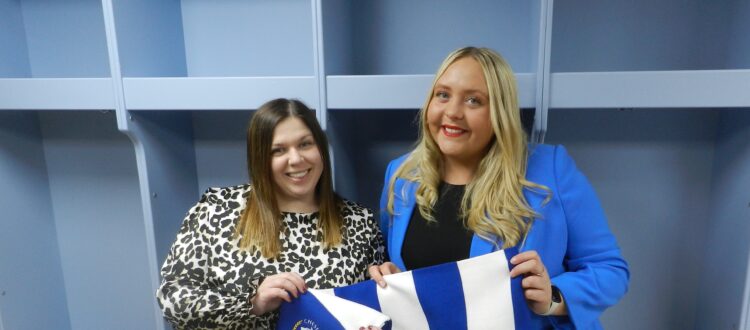 NEWS | Chester Football Club appoints first-ever net zero advisory partner!
Chester Football Club has appointed Positive Planet as its first-ever net zero advisory partner, as we make our commitment to help tackle climate change.
As part of this partnership, Positive Planet will work with the club across the next three seasons to produce a comprehensive sustainability strategy to ensure goals are met so that the Club can positively impact the local Community and beyond.  
Blues General Manager Georgina Slawinski spoke in further detail about today's news: "Football provides an influential platform for driving positive change.   
"It is vital that we recognise the gravity of climate change as one of the most significant challenges facing our generation and take responsibility for making more sustainable choices.  
"One of the ways we're putting this commitment into practice is through our new 'EcoKit', which is being produced in collaboration with our new technical kit supplier, Hope + Glory. This kit will be worn by our First Team, Academy and Women's Teams, and will be available for supporters to purchase as we take steps to safeguard the environment.  
"We are excited to be working with Positive Planet, and our partnership marks the beginning of a vital journey to establish a culture of environmental sustainability within the realm of football and throughout the wider community."  
The partnership with Positive Planet is founded on the principles of collaboration and education to enact change that benefits our planet and our communities.  
The collaboration will develop a comprehensive sustainability strategy, which includes the creation of a carbon reduction plan and a range of education and awareness programs, with regular bi-annual performance reviews. 
Stephen Henry, Co-Founder of Positive Planet, said: "Positive Planet is delighted to add Chester Football Club to our growing community of organisations committed to reducing their carbon emissions and positively impacting their wider community.   
"Football clubs are pillars of the community and football's true power lies in the opportunity to act as a carrier for genuine messages to fans and players around more sustainable behaviour. 
"We are excited to support Chester FC on this journey."  
Positive Planet provides solutions for businesses and organisations looking to take responsible action to reduce their climate impact.  
The consultancy has a suite of business applications designed to simplify their pathways to net zero.   
From carbon footprint measurement, emissions reduction planning, employee training, stakeholder engagement and program delivery, Positive Planet delivers innovative ways to turn intent into impact.  
Contact Positive Planet via enquires@positiveplanet.uk or visit positiveplanet.uk.  
Picture: Emily Pegg of Positive Planet (left) and Chester FC General Manager Georgina Slawinski (right).