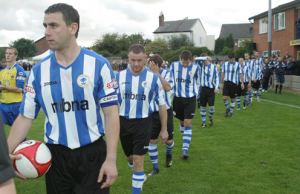 NEWS | Welcome to Saturday's match sponsor, University of Chester!
The University of Chester is delighted to be the match sponsor for Saturday's final regular season league fixture against Buxton!
Professor Kurt Allman, Executive Dean, Faculty of Science, Business and Enterprise said: "It is a privilege for the University of Chester to be Saturday's match sponsor and a great opportunity to bring together two of the City of Chester's great institutions – the mighty Chester Football Club and the University of Chester."
The University of Chester has provided business development support to Chester FC over recent months through the Cheshire & Warrington Business Growth Programme (BGP) and, as a result, the University has developed a strong relationship with the Club which we hope will form the foundations of successful long-term collaboration.
In addition to direct business development advice, the BGP Team at the University has facilitated business introductions including connecting the Club to Positive Planet (another business supported by BGP) which has led to them being appointed as the Club's first ever net-zero advisory partner.
Georgina Slawinski, General Manager at Chester FC said: "This strategic collaboration will allow us to receive continued business growth support working with the University to develop academic-led research projects, provide knowledge exchange, broaden our community and commercial relations and enhance student experience opportunities."
The Chester Business School at the University can assist businesses in many ways including facilitated access to student talent (internships, graduate recruitment, work-based learning placements etc), support in the development of commercial innovations through industry/academic collaborations, continued professional development, business premises and general business development advice.
If you are interested in finding out more about how the University of Chester can assist, please contact our Business Development Manager Louise Goodman l.goodman@chester.ac.uk.
Georgina Slawinski added: "We want to thank The University of Chester for its support via The Business Growth Programme over the last few months. We look forward to continuing our working relationship to drive the club's business development and community impact."
Kirstie Simpson, Deputy Dean and Associate Professor at the Business School and Secretary General for the European Observatoire for Sport and Employment added: "This is a particularly exciting time to be engaged with Chester FC with the increased interest in non-league football in the UK and the fact that the Club sits comfortably in 3rd place in the league standings following great performances on the pitch and an excellent run of results this year.
"Good luck to the team this weekend and with the upcoming play off fixtures!"