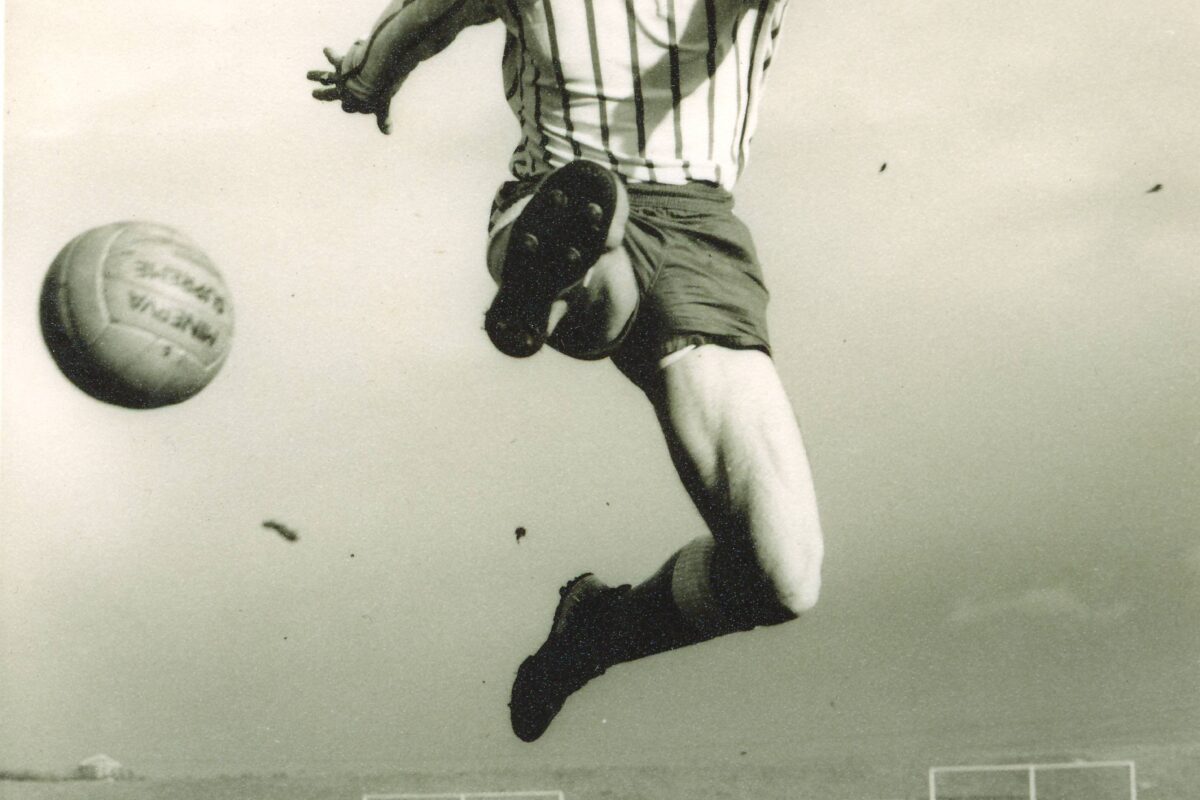 OBITUARY | Gary Talbot – 1937-2019
The word legend is often overused in football but if any Chester player deserves the accolade it is Gary Talbot who has sadly died at the age of 82 after a battle with cancer.
A predatory goalscorer he was a member of the 1964/65 "Famous Five" forward line and the club's record Football League goalscorer for many years until his total was surpassed by Stuart Rimmer in the 1990s. Gary also had the distinction of scoring one of the FA Cup's fastest ever hat-tricks, in just under three minutes, against Crewe Alexandra in November 1964. All these feats were achieved while  juggling a successful career as a press photographer.
A lifetime president of the club, as well as president of the Chester Former Players' Association, Gary remained an enthusiastic supporter of the reformed club which he loved with a passion and was a familiar sight at the ground until very recently. One of his last formal roles at the club was to accept the accolade of having the upstairs lounge at the 1885 Arena named in his honour.
What made Gary's football story so remarkable was his unusual path to football fame at Chester. Although he had played in the reserves at his hometown club Blackburn Rovers, as well as Preston North End, his career only took off when he played in a Showbiz game against the newly appointed Chester manager Peter Hauser at Blackpool in summer 1963. At the time he was concentrating on his career working as a photographer with the Daily Mail in Manchester but after showing his natural goalscoring instinct with a handful of goals he was offered a surprise trial at Sealand Road. The game was held behind closed doors, against Tranmere Rovers, and when Elfed Morris was injured Gary came on in the second half, grabbed a couple of goals and signed part time terms shortly afterwards.
After scoring a brace for the Cheshire County League side, in the first game of the season against Frickley Colliery, Gary made his Football League debut against Newport County at the start of September 1963. Once again he found the back of the net and never looked back finishing the campaign as leading goalscorer with 23 goals in 32 games, including four goals against Carlisle United in November.
Gary will particularly be remembered for his goal contributions in the 1964/65 season when he was a member of the "Famous Five" forward line, alongside Jimmy Humes, Mike Metcalf, Elfed Morris and Hugh Ryden. Between them the  five forwards scored more than 20 goals apiece in all English competitions with Gary finishing top scorer in the league with 28 of the 119 goals.
In the next couple of seasons Gary's appearances were limited as he suffered a couple of bad injuries including a hairline fracture of the leg and at the end of the 1966/67 season he joined Crewe after a contract dispute. While at Gresty Road he scored 20 goals in 35 games to help Crewe gain promotion to the Third Division. However, the extra travel involved together with the demands of the photography business caused Gary to rejoin Chester in time for the start of the 1968/69 season. This proved to be his final season in League football and he ended it in style once again finishing as leading goalscorer with 22 goals.
Gary ended his football career in 1969 to concentrate on his photography business which was going from strength to strength. Over the years he took many iconic pictures of royalty, such as Princess Diana, through to world leaders and film stars like Sean Connery and James Mason. He was also official club photographer for Everton and continued to take pictures for Chester throughout the 1960s and 1970s. While playing for the club he had been in a unique position to show the club in a different light and his relationship with playing colleagues allowed him to take more relaxed and candid photographs which would not have been possible for outsiders. In particular his photographs taken before the cup ties against Manchester United and Newcastle show a different insight to the game. He was also responsible for arranging the widely seen "Famous Five" photograph, taken from behind the goal net, of all five strikers jumping in the air and striking five balls into the goal although he admitted that the balls were all stuck to the net with sellotape.
Gary will be a huge loss, not only to the football club but to the city as a whole and our sincerest condolences go out to his wife Christine and all his family and many friends.
Chas Sumner.