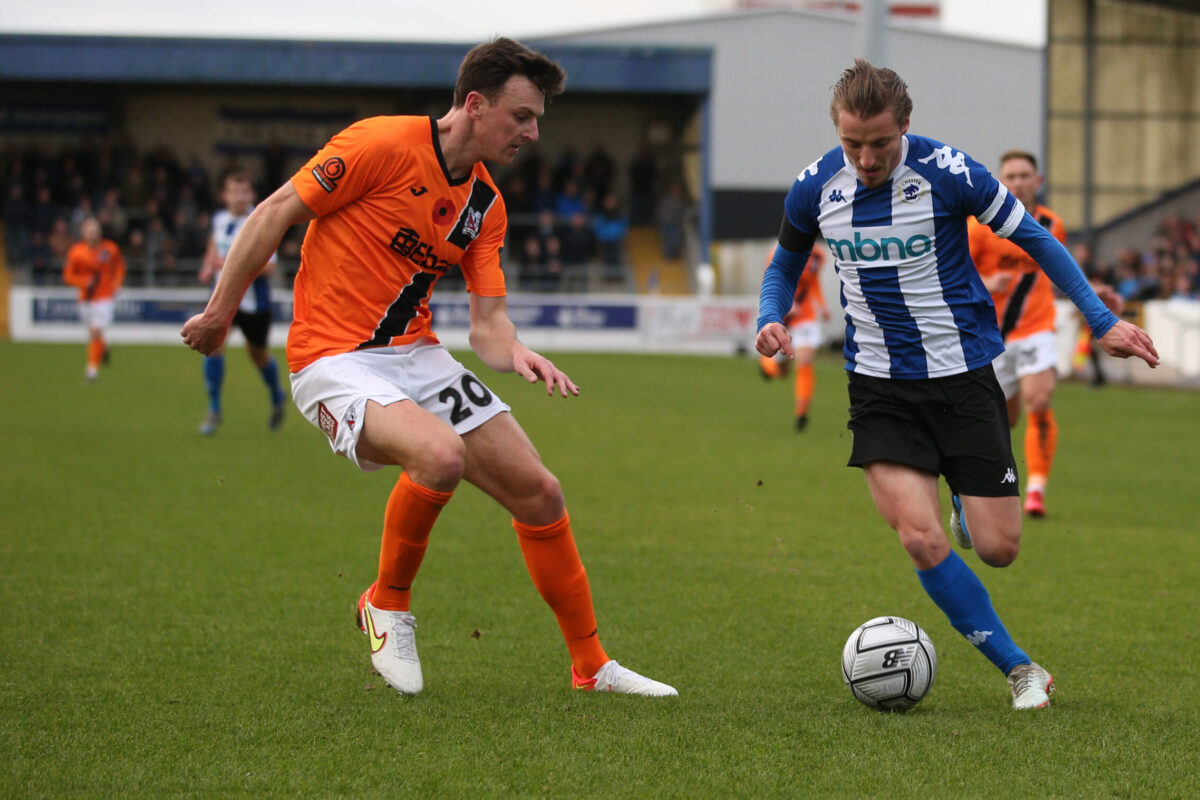 PLAYER INTERVIEW | George Glendon
Chester FC Captain George Glendon spoke to us following Saturday's home defeat to Chorley.
Despite a positive second half showing, the 2-1 defeat over the weekend made it five losses in a row for the Blues.
Speaking post-match, Glendon said: "The team is low on confidence at the moment, and we need to build it up by bringing as much positivity around the place as we possibly can.
"The Gaffer has had a few chats with me as Captain as well about how we do that. I don't think any of us have been on a run like this before in our careers.
"I know the fans are disappointed with us. I've seen some comments that the lads aren't trying hard enough, but I need people to believe me when I say they are.
"We're trying absolutely everything to put it right."
A positive second half stemmed from the fans backing, according to the Blues' Captain.
"The noise the supporters made in the second half getting behind us definitely helped – it spurred us on to keep pushing and fighting.
"We have to start to win and repay them for that and the lads are desperate to get it right.
"It's been a rubbish season for all of us. We just want to try and give our fans something to shout about.
"There's a lot of lads that have been here for a while now and are so passionate about this football club.
"It's been a hugely disappointing season. We need to turn it round and do it for them, the fans."
Next up for the Blues is a trip to the North East and Blyth Spartans as Glendon and co look to stop the rot.
 "Blyth is a must win game," he said.
"We have to find a way to do it and pick up a couple of wins.
"We're trying our best to fix the problems – Chorley was a much better performance – and we just need a bit more luck maybe.
"We need to pick up a couple of wins and bring some positivity into the place.
"We're sick of just talking to be honest, we have to just put it right."
One positive from the weekend was another debut for one of our own.
18-year-old Ollie Heywood, who is still currently the youth team captain, came on as a second half sub and played a part in winning the penalty late on.
"I love Ollie, I think he is a great lad," the Club Captain said.
"I've had conversations with Cal (McIntyre) after he's trained with us, he's been so impressive and he's like a man already.
"I keep talking to Ollie and also Harrison, those lads have got big futures ahead of them.
"The young lads have been the positives out of this season so far, they are only going to learn and get better."