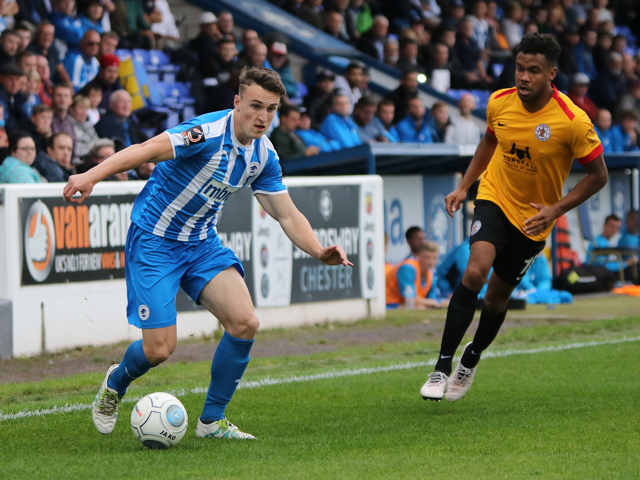 PLAYER INTERVIEW | Luke Jordan looks ahead to Boston United
Chester FC's newest signing Luke Jordan says three points is on the agenda as the Blues travel to Boston United tomorrow.
Speaking to ChesterFC.com ahead of the game, Luke said: "In training last night the lads looked really confident and ready for the game tomorrow – hopefully we can come away with the three points."
Seven days ago Luke was announced as the Blues latest signing from Ramsbottom United.
It was a frenetic few days for the 19-year-old, who was brought on a sub in the thrilling 5-3 win against Bradford PA 24 hours after signing.
"I wasn't expecting it to get over the line so quickly to be honest!
"Trained with the lads on Thursday and Bern and Jonno told me I'd be in the squad on Saturday – so that was a bit of a shock to me. I was a bit nervous at first but once I got out there I calmed and thought I did well.
"One of my strengths is playing forward. I love to be direct going down the wing and getting the ball and just running with it."
Jordan, from Burnley, has been utilised as a sub in both games this week – with the FC United game being played in front of 2,000 fans at the Swansway.
"I've been so impressed with the fans so far. Teams higher up the pyramid don't have support this good – the amount we get is incredible really."
After leaving Morecambe, the winger took a career gamble going down the pyramid to Ramsbottom United in order for him to climb back up.
But his hard work has paid dividends so far, earning a move into the National League North with the Blues and – Luke hopes – beyond.
"After I left Morecambe I knew I'd have to drop down a bit.
"I really enjoyed my time at Rammy on loan so I thought I'd go back there and enjoy my football.
"I just want to work hard and then see what happens."
Photo – Sporting Memories