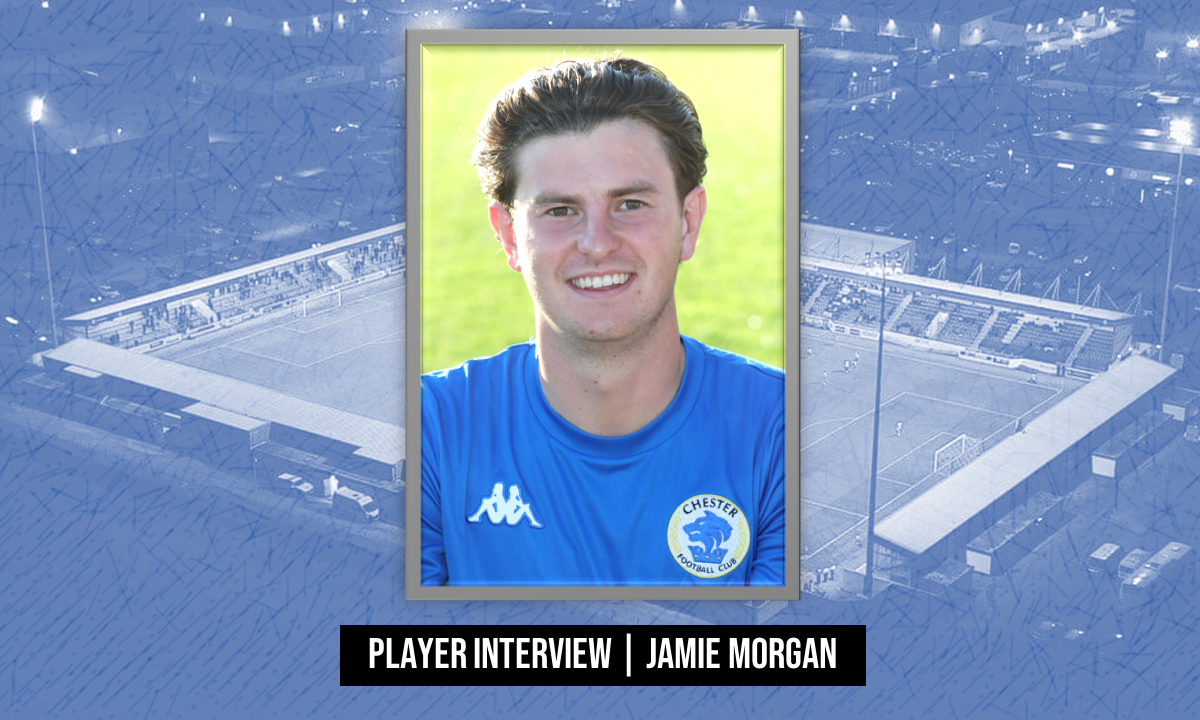 PLAYER INTERVIEW | Morgan ready for 'massive' year in Blue and White
It could be a big year for 22-year-old Jamie Morgan.
The exciting Crewe-born defender showed glimpses of his potential during 2019/2020, following his arrival last summer from Nantwich Town.
He had been named Players' Player of the Season, Player of the Season and Management Player of the Season at the Dabbers prior to signing – and jumped at a shot at the Deva.
Competing for a full-back position with the experienced and consistent Kevin Roberts last term saw Jamie restricted to just 15 appearances in all competitions.
But the ambitious Morgan is raring to go and wants to make 2020/2021 a big season.
Speaking to ChesterFC.com, he said: "It means a lot and I feel that it is massive to me this year – being able to have another crack at it.
"It's a big year. I played a few games last term and had a taste, but there's lots for me to improve on and playing a lot more will hopefully make it a big season for me."
Morgan and Roberts were two players who saw their contract extensions triggered for another year during the off season – and earlier this week were present at the Deva.
It was an evening that saw a further seven first team starters from last season's Blues side sign fresh deals with the team for this year.
"It's been really good seeing everyone." Jamie said.
"It was really nice, they're your friends and family really aren't they? So I think we've all missed each other, and it was great to get back down to the ground."
Consistency could be key as we embark on another campaign – and the flying full-back believes that Anthony Johnson and Bernard Morley keeping hold of the experienced dressing room heads could prove key.
Morgan said: "When you get a good set of lads you have to hold on to them.
"The bulk of the lads, the likes of (Danny) Livesey, (Simon) Grandy and Kev (Roberts) are the heart of the team and it's key having them back.
"We've got to build on it and hopefully we can have a successful season."
The former Nantwich and Sandbach man came on a substitute in the dramatic 3-2 Play-Off loss at Altrincham back in July.
One of the subs who changed the game at the J.Davidson Stadium, Morgan appeared to be fouled late on inside the box which would have given the Blues the chance to complete an incredible comeback from the spot.
But it wasn't to be at the end of a controversial afternoon – as Altrincham advanced and went on to earn a deserved promotion.
Jamie was gutted the lads got so near, yet so far.
He said: "It was a heartbreaking end to the season really.
"We gave it absolutely everything, particularly at the end when myself and a few of the lads stepped off the bench and we went for it.
"We had a go but it just wasn't our day – for more than a few reasons!"
Chester were the 6th placed side at the end of the shortened National League North season.
The ten men were three goals down after an hour to 5th placed Altrincham, before a mammoth attempt at a fightback saw the Blues score twice and nearly pull off the impossible.
Morgan believes the fightback was a microcosm of the spirit in the Chester FC dressing room.
"The lads worked really hard to get to that spot.
"We dipped a bit towards the end of the season – and with the set of players we had – I felt maybe we could have done a bit better.
"But nothing but pride with those lads on that day. We could have rolled over when things didn't go our way – but that didn't happen.
"It shows there's a lot of grit and heart in that dressing room. It means a lot to me being a part of it."