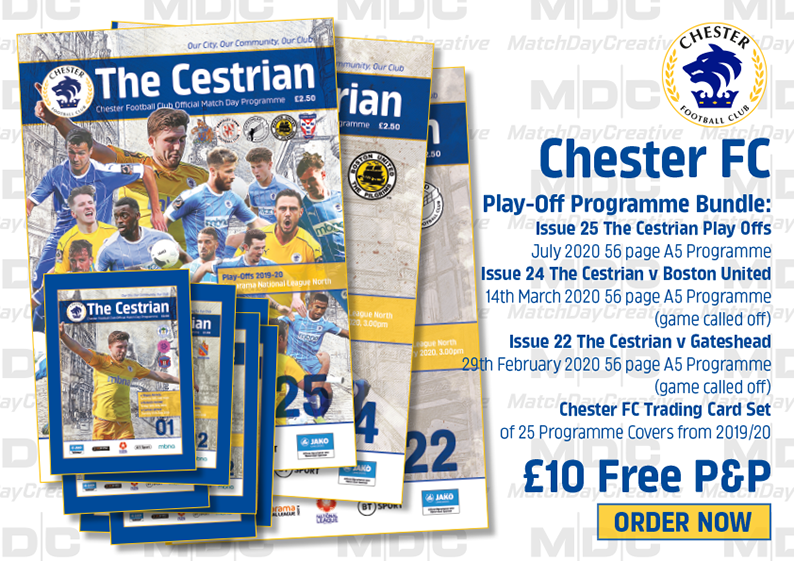 PROGRAMME | Chester Football Club Limited Edition Bundle!
Chester Football Club are delighted to partner with MatchDayCreative to launch a limited edition programme bundle for Blues supporters.
With our regular season home matches against Boston United and Gateshead both postponed, we have printed the programmes already designed prior to the matches for you to get your hands on and have a read.
But the bundle doesn't end there, we have also printed Issue 25 – the Play-Off Programme!
Finally, a little extra treat for you, the bundle also includes exclusive Chester FC Trading Cards, a set of the 25 Programme Covers from the 19/20 season.
A perfect chance for a collector to finish off their collection of programmes for the season.
The best part? It's JUST £10! The cost also includes FREE postage inside the United Kingdom. (Please allow up to 14 days for delivery)
It's great value for money and a must have for any Blues supporter. Make sure you get your bundle today!
What's inside your three limited edition programmes?
Gateshead (h) | Issue 22 | Saturday 29 February
Exclusive interview with James Jones
Chas Sumner takes us back to 1950 for an FA Cup tie with Bradford PA
The Big Question panel discuss National League Marketability
…and much more!
Boston United (h) | Issue 24 | Saturday 14 March
Exclusive interview with Matty Waters
A look at the Under-19's Semi Final victory vs Luton
The full report from the Blues Senior Cup QF win over Tranmere
…and much more!
The Play-Off Programme | Issue 25 | July 2020
A message from the Gaffers
Our favourite pictures from 2019/20
'Blues Tunes' – a new feature, with Jamie Morgan kicking us off!
Feature interview with John Johnston
…and much more!
Every order makes a difference, so make sure you take advantage of this incredible offer.