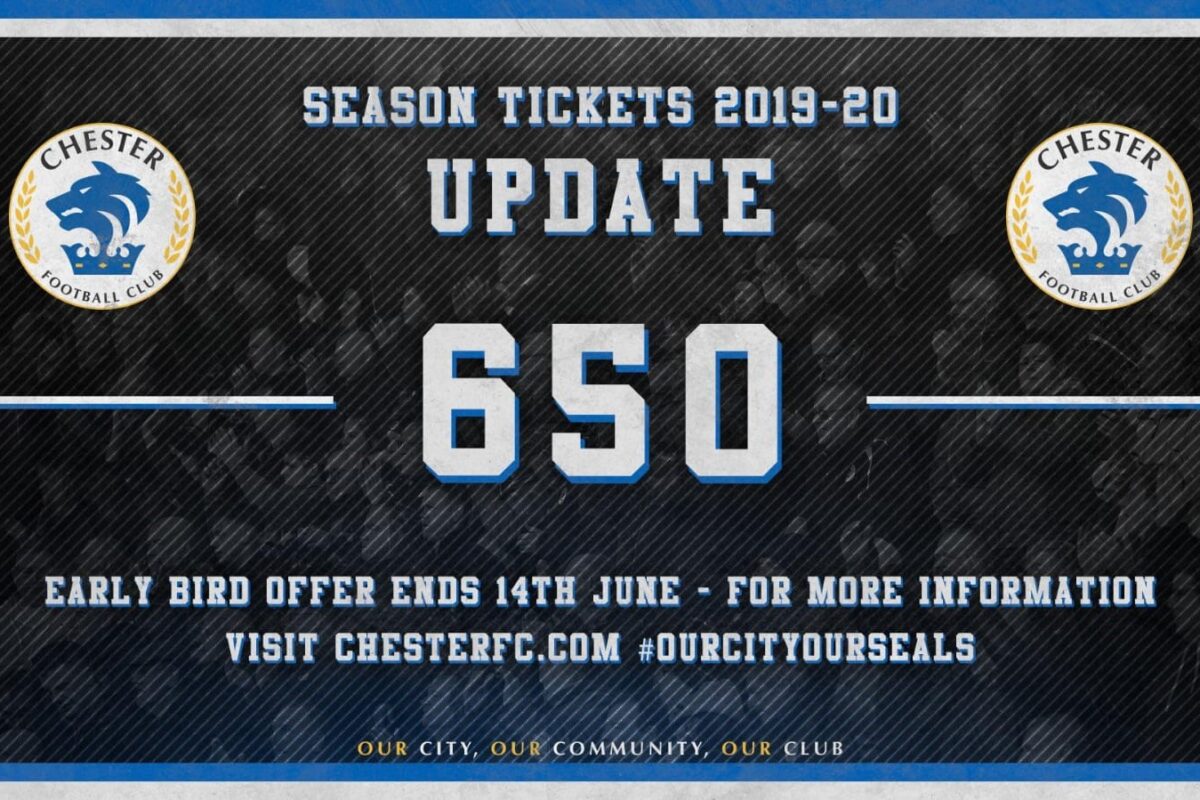 SEASON TICKETS | 650 sold so far!
We can confirm that 650 Season Tickets have been sold so far for the upcoming 2019/2020 campaign!

Chester FC have once again set prices at an affordable level for fans once again, and have put together a season ticket busting deal for 18-21 year olds on the Harry McNally Terrace; and you have in turn been taking advantage of these great prices!
For just £50, 18-21s can secure their season ticket during the Early Bird sale dates which will see that age group being able to take advantage of an amazing 14 FREE matches.
All other areas of the ground have seen a price freeze.
You have until just tomorrow at 4pm to retain your seat from the 2018/19 season! We are also open this Sunday (10am-4pm) to assist with sales, ahead of the Early Bird deadline on Friday 14th June. The prices are below – make sure you don't miss out on what could be a memorable season!
Director of Fan Engagement, Jeff Banks, has this to say: "We're really pleased at the pace of season ticket sales so far with many fans taking up the excellent value for money EarlyBird prices which we set towards the end of last season.
"We're ahead of where we were at this stage last year and with the ticket office being open on Sunday this weekend in addition to the normal office hours it provides a great chance for everyone to renew or buy their season ticket for the first time.
"We've also had a positive response with the new 18-21 standing season ticket which is available for an amazing £50 up to next Friday, so we really encourage those in that age group to take advantage of that cracking deal and help bring back the atmosphere to the Harry Mac Terrace."
PRICES #OurCityOurSeals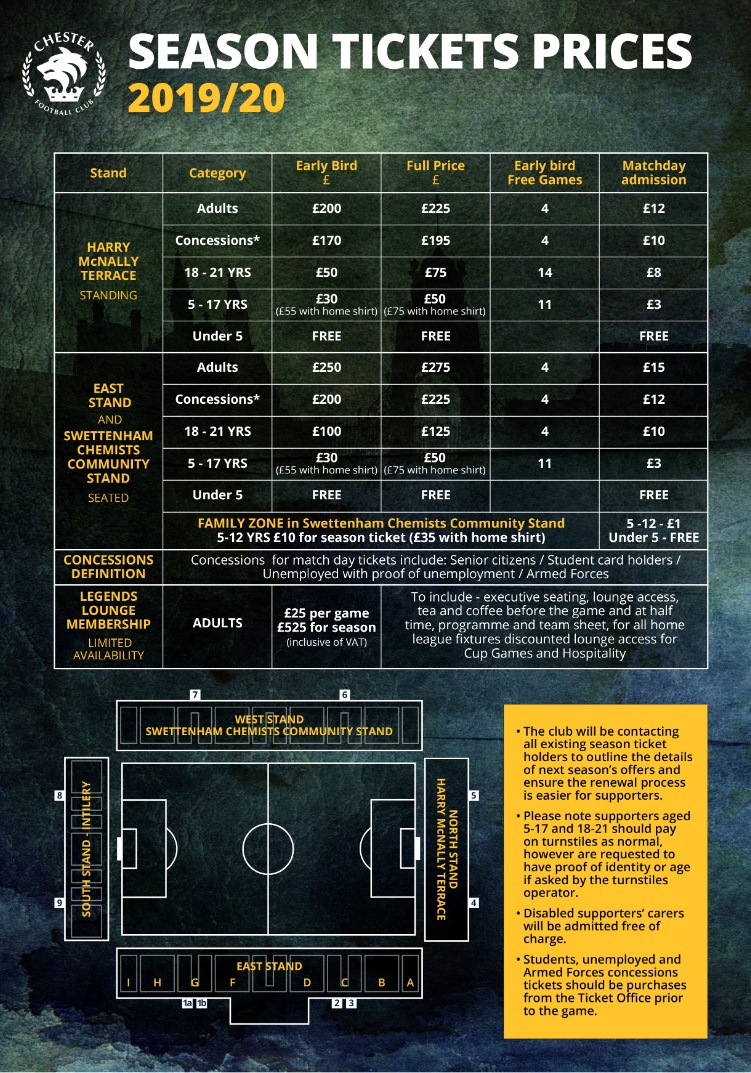 KEY DATES #OurCityOurSeals
RETAIN YOUR SEAT FINAL DATE | Friday 7th June 2019
SUNDAY SALES | Sunday 9th June 2019
EARLY BIRD SALES END | Friday 14th June 2019
FULL PRICE SALES START | Monday 17th June 2019
HOW TO GET YOURS #OurCityOurSeals
Season Tickets may be purchased…
IN PERSON: From the ticket office at the Swansway Chester Stadium from Monday-Friday between 10am and 4pm from 29th April onwards. Payment by cash, card, cheque or direct debit.
BY PHONE: From the ticket office at the Swansway Chester Stadium from 10am-4pm Monday to Friday. Payment by Credit/Debit Card only.
BY POST: From the ticket office at the Swansay Chester Stadium. Enclose completed application form (download above). Payment by cheque only.