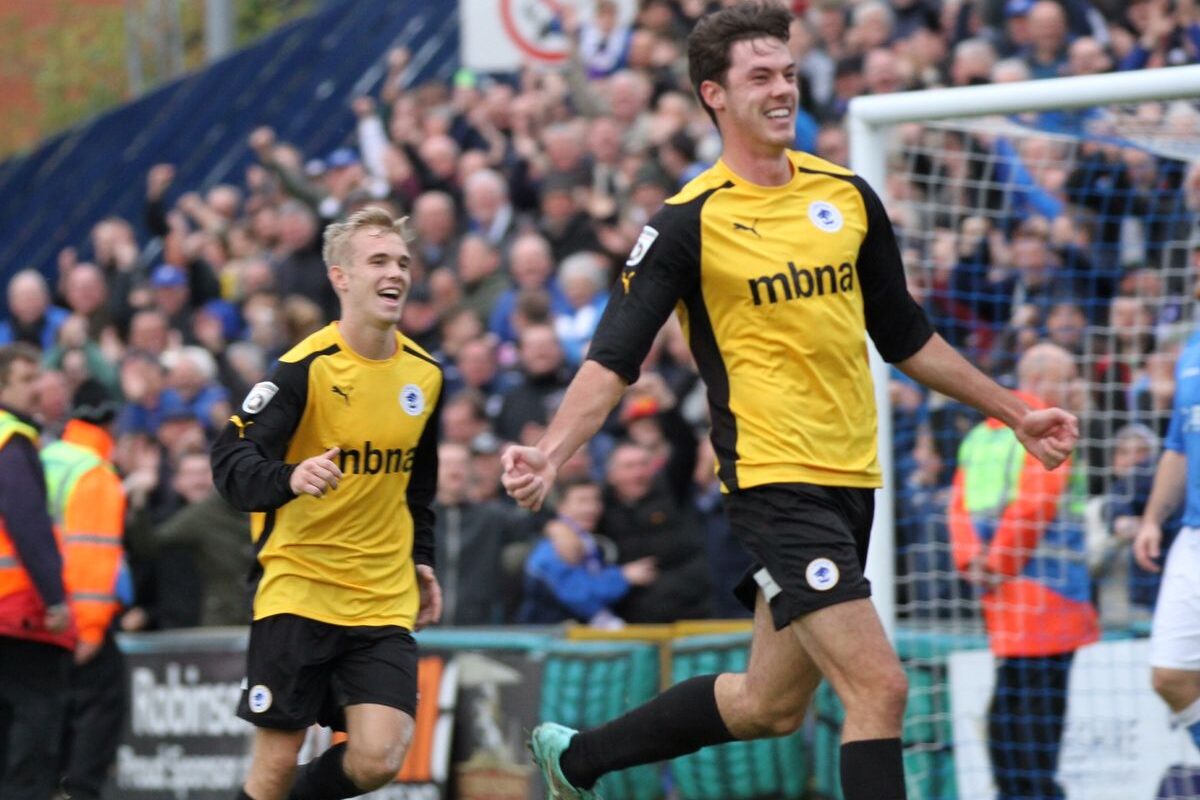 THE BIG INTERVIEW | Ben Heneghan
"Oh, they missed him at the back post. Ben Heneghan has won it for Chester with the very last touch of the game. Absolutely extraordinary finish. Chester, from one down, to win it 2-1 in the 94th minute."
With total respect to the Seals Live team, has there ever been a better piece of commentary at the Deva?
What an occasion for a player to score his first professional goal.
Yet the arrival of Heneghan a little more than a month earlier, in August 2014, almost slipped under the radar.
Fans were still digesting a calamitous 5-0 opening day defeat at home to Barnet when Steve Burr brought in the 20-year-old centre half to help shore up the defence. Released by Stoke City without making a first team appearance, Heneghan had been recommended by a coach at Droylsden where he'd been on loan.
"I'd been playing for the Under-23's at Stoke but never quite managed the step up," says Heneghan, who started out at Everton when he was 11-years-old. "Then I had trials at Oldham and Accrington but Chester was the first club to make an offer, on non-contract terms initially. I knew nothing about the club – I just wanted to play football. After the Under-23's at Stoke, which is basically an extension of the youth team, it was exactly what I needed."
Heneghan made his Chester debut at Braintree, with the Blues still to register a point. After starting on the bench he was thrown into the fray at half time, at right back.
"I'd never played full back before so my first thought was 'oh no', but it was just a case of adapting," says Heneghan, who helped the team overcome conceding the opening goal to win 3-1. "We had some experienced lads at centre back – Charnock, Matty Brown, Kay – so they guided me through it. It was a great dressing room. The first person I met was Jon Worsnop, who helped me settle in. We still speak."
Come the Derby, the Blues were lying in 16th position in the National League with ten points from the same number of games. For the second season the fixture was a bubble, limiting the attendance to a relatively paltry 3,183, but the atmosphere in front of the BT Sport cameras was frenzied. By that stage Heneghan was a shoo-in at right back, given free-rein by Burr to get forward.
"I didn't really understand how big the fixture was until we were walking out," says Heneghan. "It was electric that night. The noise was incredible. I remember we switched off for their goal and it took us about 20 minutes to get into the game."
However, after half time the tide turned and Craig Hobson flicked in a 74th minute equaliser. Sensing an unlikely winner as the clock ticked down, Kingsley James pumped a long ball in the direction of Chris Iwelumo.
The big forward, at the very end of his career, was about as mobile as a telegraph pole but provided the distraction for Heneghan to ghost in at the back post. The ball seemed to take an eternity to arrive but, showing remarkable poise, he struck a volley into the corner of the net.
Heneghan recalls: "I was up there hoping to get my head on the ball but I could see it dropping over the two defenders, so it was just a matter of following the flight. It was a sweet connection. I will take that memory to my death bed. I didn't have a clue how to celebrate so I just ran off waving my arms, slid on the floor and waited for the pile-on. I knew it was something special."
Overjoyed fans spilled over the hoardings to join the melee, sparking wild celebrations as the whistle sounded…and beyond.
"The gaffer told us to go out and enjoy it, so the whole team went out in Chester," says Heneghan. "We were in a pub and the fans just flooded in. It was a brilliant night and I've still got my shirt from the game, signed by the players."
That season was also unique in recent memory for featuring an FA Cup run. Heneghan developed a habit for scoring important goals, finding the net at both Stockport and Southend. Another away day to savour was the 0-0 draw at Barnsley.
"It was a talented group," says Heneghan. "We grew in confidence and had some great players, such as Rooney and McConville. Steve Burr was a good manager who liked to get involved in training and still fancied himself as a goal scorer! Macca (Jon McCarthy) also really helped me. We finished 12th but felt we really should have been nearer the play-offs."
The following season Heneghan switched to his favoured centre half position, alongside Ian Sharps or Ryan Astles, but admits: "For whatever reason the team didn't really gel as much."
Despite another victory against Wrexham, the Blues fell away badly and the poor results culminated in Steve Burr's dismissal. Only a superb win away at Grimsby banished the threat of relegation. The patchy season was no reflection of Heneghan's form and his consistent performances began attracting admirers. At the end of the season it was inevitable he'd be moving on up, opting for a deal with Motherwell despite interest from League One clubs in England.
"I felt it was what I needed for my development," says Heneghan, who took the step up in his stride. Eventually he earned a dream move to Sheffield United, for a reported £400,000 fee, but over three years was unable to break into the first team. It was a frustrating time, as he felt he deserved more opportunity than a single FA Cup appearance. Extended loans at Blackpool preceded a permanent move to current club AFC Wimbledon.
Heneghan has played in front of full houses at Ibrox and Celtic Park, but some of his happiest memories are from his National League days.
"I absolutely loved every minute being at Chester and I was lucky enough to have a good connection with the fans," he says. "It's unreal to hear supporters singing your name for the first time. The club gave me a lifeline when I left Stoke and I will always be grateful. I owe Chester such a lot."
The Big Interview with Ben Heneghan is courtesy of Adrian Lee.