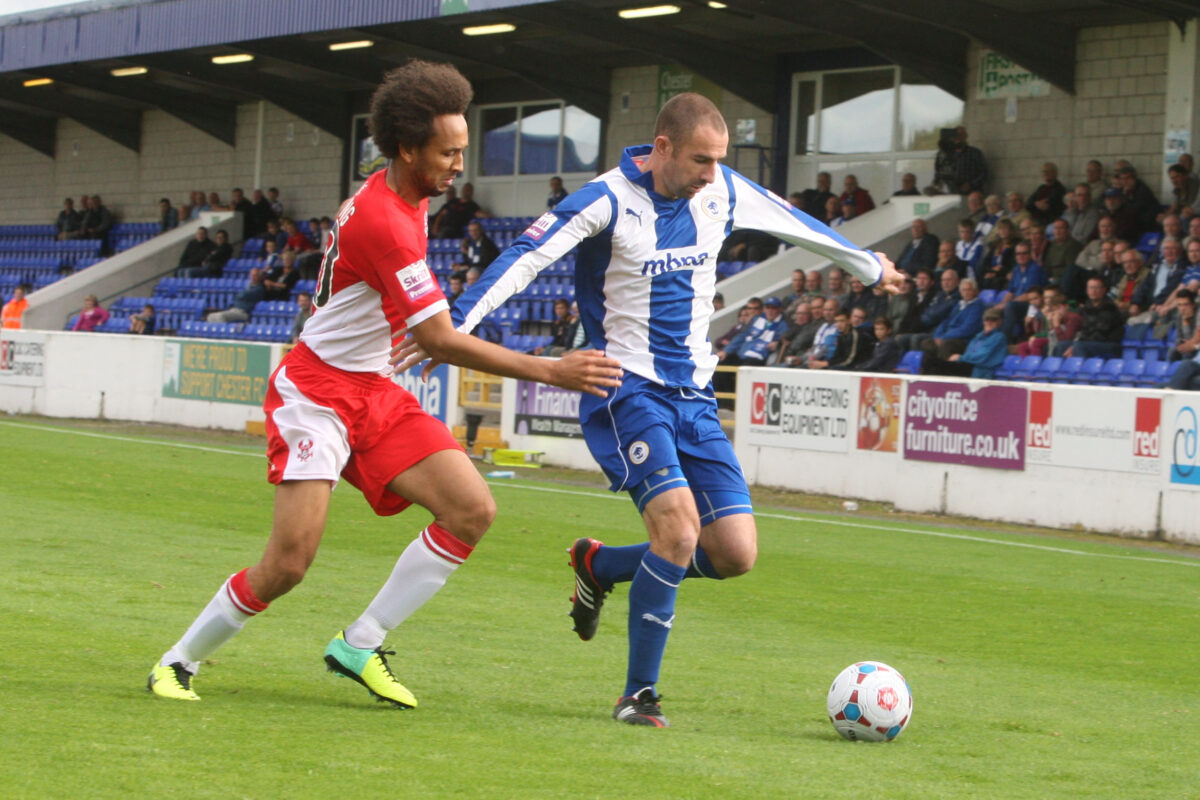 THE BIG INTERVIEW | Danny Higginbotham
It's fair to say the arrival of Danny Higginbotham at The Deva raised a few eyebrows in the game.
For a player who'd once stepped out at the Maracana, for his first club Manchester United, and was still part of the set up at League One Sheffield United, it seemed a strange move. His opponents in the National League that season certainly thought so, giving Higginbotham plenty of stick on the pitch to try to rile him.
"I heard it all," he says, reflecting on his brief stint at Chester under Neil Young. "It didn't bother me. They'd be saying 'what are you doing playing here?' but I'd just have a laugh with them."
At the time Higginbotham was 34-years-old and aware that his career was drawing to a close. Media opportunities were opening up and he regarded joining a relegation battle with the part time Blues as a way of combining football and punditry. In fact he was to appear only 17 times but managed to squeeze in a derby win at the Racecourse, his international debut and enjoy being proclaimed a Chester legend.
The introduction was initially made by his broadcasting pal Colin Murray, who'd thrown his support behind Chester.
"I wanted to continue playing," says Higginbotham, whose most successful spell was at Stoke City in the Premier League. "I could have stayed in the football league but I wanted the best of both worlds. We trained on a Tuesday and a Thursday at Chester, which also gave me time to do media work, but the agreement was that the football took priority."
Higginbotham arrived at a team which was, to say the least, struggling to find its feet. The first five games had all been lost and next up was the small matter of our neighbours across the border.
"I arrived at training on the Thursday," he says. "It was funny because there were a few Stoke supporters, such as Ben Mills, among the lads. They were looking at me as if I was daft but it was no big deal for me. When I was a young lad I followed my brother all over non-league. I like to think I've never had an ego. I was just one of the players – nothing more, nothing less. I was welcomed at Chester with open arms. It was a really good dressing room and I felt at home straight away. There were some big characters, like George Horan, Linny (Paul Linwood) and Gaz Seddon. The spirit was good and there was some quality there. I thought my experience might help, but I didn't go in there trying to be the 'big I am'. It was just about trying to get that first win."
August 31 that season, 2013/14, is etched in the memory of every Chester fan. The 'bubble', the first victory at the Racecourse for 25 years, the celebrations afterwards in the Blues Bar. But for Higginbotham, despite the febrile atmosphere, it really was just another game.
"I arrived at the Chester ground, in my car, and the supporters were gathering to catch the buses. I didn't really appreciate the rivalry between Chester and Wrexham, but I've been fortunate to play in some big derbies…Tyne-Wear, south coast, Midlands, so it didn't bother me. I remember one supporter coming up to me and saying: 'it's your first game but if you win today you will instantly become a hero.' That stuck in my mind.
"On the journey to Wrexham there was a sense of anticipation. As a player you always try to engage with the supporters and understand what these games mean.
"The game itself was quite comfortable. We got an early goal which helped. One of my former team mates, Brett Ormerod, was playing for them but I think the weight of expectation was all on Wrexham's shoulders. The Chester players seemed to go there with a real sense of freedom. As a unit we defended really well, and took our chances. After the game I just told the lads: 'I can't believe the position you are in'. No way did I think that was a relegation team.
"When we got back to Chester there was a note taped to my car windscreen from the same supporter saying: "See, I told you. You've become a Chester legend. That was nice."
That 2-0 win was the high point for Higginbotham. His only goal for the club came at Gateshead on a Tuesday night, in front of 610 fans, but he says: "I knew what I was getting into, don't get me wrong."
There was also the rather bizarre episode of being called up by Gibraltar, during his spell at the Deva, and making his international debut in a 0-0 draw against Slovakia, in November 2013. He was named man of the match, joining the small band of Chester players to have been capped by their country. Higginbotham played three times for the land of his maternal grandmother, and but for the conflict with his new career in TV, newspapers and radio, could have played in the Euro qualifiers the previous season.
"It was an amazing experience," he says. "Gibraltar had just been recognised as an international playing nation and the atmosphere in the dressing room after that first game was incredible. Lads were crying."
His final Chester game was in a 3-3 home draw with Lincoln, in December 2013, in which he was carrying an injury. All the travelling was already becoming an issue, but the snapping point came on Boxing Day, when the Blues went to Southport. Higginbotham, injured and not playing, explains that he asked to be excused sitting in the stand so he could fulfil a media offer on the day.
"I'd been invited to do some work for Sky but Neil (Young) said I couldn't and that didn't feel right. I felt I'd put myself on the line for Chester and played in the Lincoln game when I knew I was injured. I wanted a little flexibility. If I'd been fit to play against Southport it would never have been an issue – football came first because I had a contract with Chester – and the question would never have been asked. But there was nothing I could do that day at Southport to have an impact on the game.
"I don't know how it would have panned out had I not been injured. There was no big row but I was starting to get more media offers, which I was really enjoying, and that incident focused my mind."
Higginbotham decided to call time on his brief Chester career, adding: "There was no bust up with Neil. I was too old for all that! He had his reasons, and I respected that."
He left Chester, still believing the team could escape the drop. Ultimately the Blues, after that disastrous start to the season, ended in the relegation places but were reprieved.
Higginbotham says: "Neil was a good manager but I don't think the turnover of players helped. At whatever level you play, you need continuity. The team would change week in, week out, as Neil tried to find a winning formula. Players at that level tend to be more inconsistent, but you still get moments of great quality and 100 per cent desire and passion. That was my impression of Chester."
A couple of appearances for Altrincham, then in the league below and with less travelling involved, followed but Higginbotham found his appetite for football waning. He decided to hang up his boots and now has a thriving media career. In 2015 he published his autobiography Rise of the Underdog.
Looking back, he says: "I thoroughly enjoyed playing for Chester. For a short time it gave me back my love of the game. Of course the Wrexham game stands out but I also remember a match at Hyde, in horrendous conditions, when we came back to win 2-1. It was a real defenders' game."
So, when the club found itself in financial difficulties in 2018, Higginbotham rallied to the cause. For a final time he pulled on a Chester shirt, playing in a fund-raising legends game.
"It was brilliant," he says. "There are some good people involved at Chester and I know finances are always tough at a fans' run club. I was happy to help."
The Big Interview with Danny Higginbotham is courtesy of Adrian Lee.