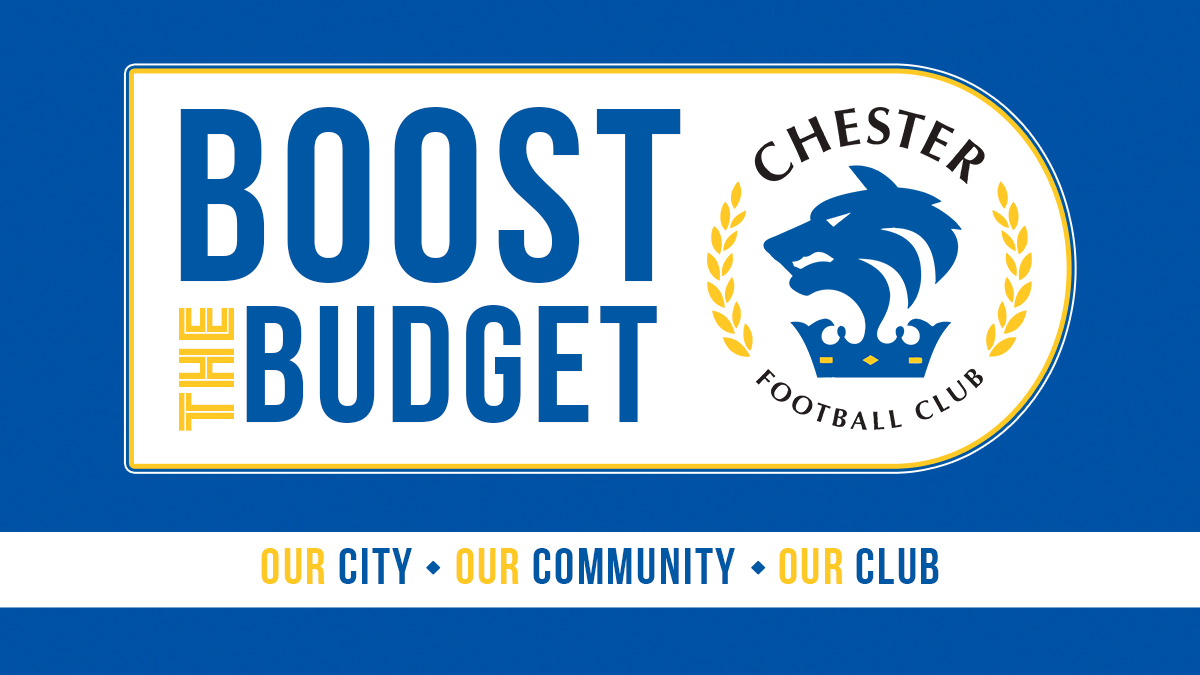 BOOST THE BUDGET | Further update on rewards fulfilment
Chester Football Club wanted to take this opportunity to thank our incredible fans for their contributions to Boost the Budget following our positive start to the campaign.
Your pledges helped us smash our target and raise more than £115,000 for the first team budget, enabling the managers to retain the core of last season's play-off squad and bring in new signings Louis Gray and Declan Weeks.
When we launched Boost the Budget, it was evident the COVID-19 pandemic posed a significant risk to non-league football, but with crowds unable to attend matches, the situation has become more precarious and your contributions more vital.
Boost the Budget remains open so if you've not yet pledged or want to make an additional contribution, click here.
Remember you can access special rewards in return for contributing above £5 per month (or equivalent one-off payment) and every penny goes towards the playing budget.
Due to current restrictions and social distancing guidelines, we are sure you will understand we are unable to fulfil some of the rewards at this time and have provided an update below about when these rewards will be fulfilled:
Tier 1: Our City
Fan experience draw: While we are unable to offer these one-off experiences at the moment, the first fan experience draw will take place in December with further draws in February and April. The experiences will be fulfilled as soon as restrictions allow.
Tier 2: Our Community
Child season's tickets: Thanks to your pledges, more than 400 will be donated to the Community Trust for the 2021/22 campaign to support its work locally. You will receive an e-certificate as a special thanks later in the season.
Limited edition pin badge: The unique pin badges celebrating a decade of Chester FC will go into production this month and be distributed in January.
Tier 3: Our Club
Buy a Brick: The specially designed bricks will be ordered in early 2021 and you will be contacted to confirm your chosen name and message in the next few weeks.
Squad photo: We have been unable to have a traditional squad photo this season so we now plan to organise this at the end of the campaign, subject to restrictions.
Pick the playlist: With fans unable to attend matches and listen to your selections at present, these will be rolled over until crowds return and into next season if necessary.
Tier 4: Club Hero
End of season awards tickets: We hope we will be able to hold an annual celebration at the end of the season. In the event this is not possible, tickets will be rolled over to next season.
Tier 5: Club Legend
Special meal with the management team: This will take place at the end of the season, subject to restrictions in place at that time.
If you have still to confirm your chosen reward or have any questions, email boost@chesterfc.com.