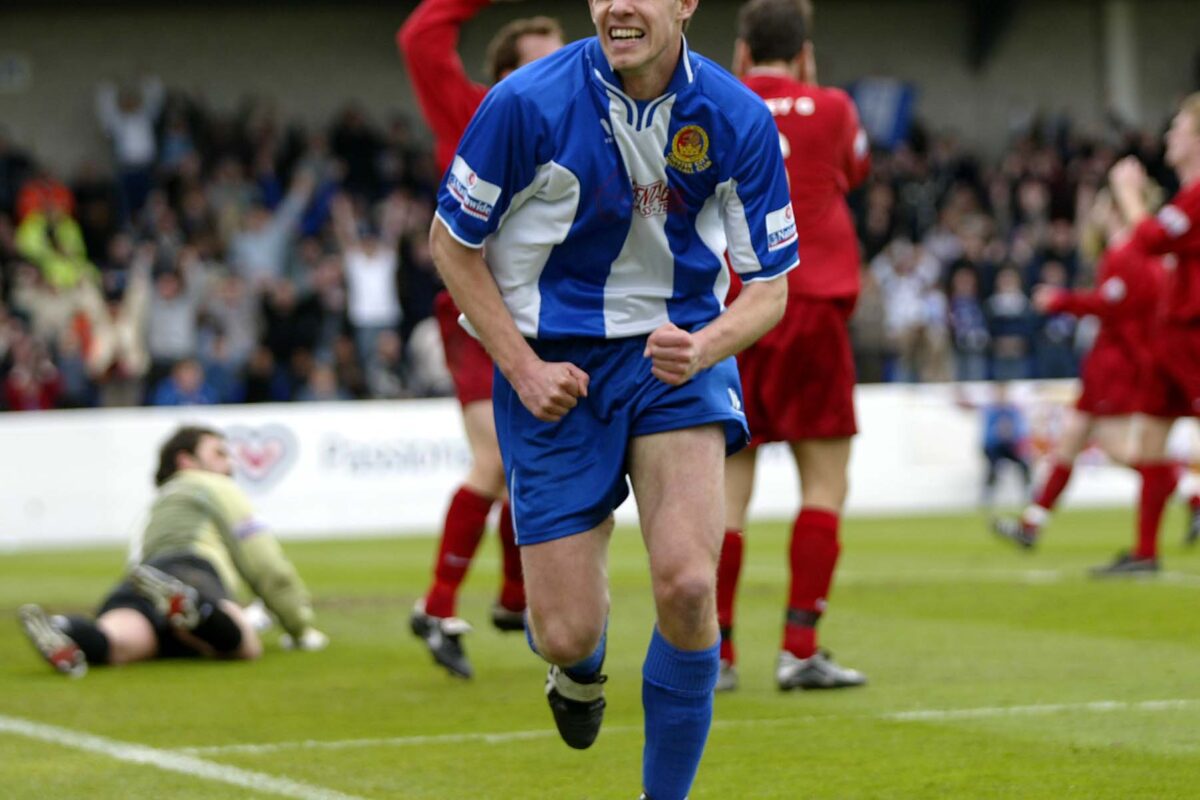 THE BIG INTERVIEW | Darryn Stamp
It's hardly surprising that Darryn Stamp has only happy memories of his solitary full season at Chester City.
He forged a deadly partnership with Daryl Clare, plundering 49 goals between them. Stamp notched 20, including the winner against Scarborough that returned the Blues to the football league sixteen years ago.
Stamp was a late arrival at the Deva Stadium in 2003, after falling out of favour at League Two Northampton Town and with the conference season already under way. Yet had matters panned out the way he'd hoped Hull City would have been his new home.
"I'd been frozen out at Northampton, but that's football," says Stamp. "A few clubs were showing interest including Hull. They'd just moved into a new stadium and it was my local team. I'd have jumped at the move, but it fell through. Then Chester came calling and were willing to pay a fee, so I went to meet the manager Mark Wright. He basically told me they were going to have a right good go that season and sold it to me that I was the final piece in the jigsaw."
Stamp signed for a reported £15,000, making his debut in a 2-1 away defeat at Exeter City. In fact the Blues, minus the injured Clare, made a slow start to the campaign and were sitting on seven points after four games. Next up Shrewsbury Town, expected to be the main rivals for promotion, and Clare still missing.
Stamp's home debut, with Ian Foster also up front, began inauspiciously. Finding himself through on goal, he tried to lob the keeper but the shot skewed horribly wide. For fans old enough to remember, it was his Geoff Thomas moment. However, a few minutes later, he made amends with a classic target man header. The game was eventually won 2-1, under the lights on a Tuesday, and City never looked back. It was the start of an 18-game unbeaten run. Remarkably, given his final haul, Clare didn't get on the pitch until the 15th game.
"The forwards got a lot of attention but the defence was very solid," recalls Stamp. "Phil Bolland, Scott Guyett, Danny Collins and Carl Ruffer were all really good players. All hard as nails, big, physical and they could score goals as well."
It didn't feel like dropping down a league and it was a dressing room full of great lads. We all used to go out for a drink on a Tuesday and a Wednesday, usually to Bar Lounge near the racecourse. To start with I shared a lift with Jon Brady, who lived in Northampton, but my wife Rachel and I loved Chester so much that we eventually bought a place in Handbridge. I'd signed a two-a-half year deal and was looking for some stability. Looking back, it was the best season of my career… the team was top of the league, I was scoring goals and we were living in a gorgeous city."
Five of Stamp's goals came in two games against Leigh RMI, over the Christmas period, including his only hat trick. "In the home game I should have scored about eight," says Stamp ruefully.
After a stumble against Forest Green, the Blues went on another long unbeaten run. Stamp scored a last-kick winner against Dagenham at the Deva in February, to the delight of his wife.
"She told me she was in the stand and a couple of Chester fans had been sat behind her saying 'Stamp's bloody rubbish, he's done nothing, he's a donkey'. Then I got the winner and it was 'get in Stampy, good lad'. That made me laugh, because that's what football's all about. It can change in a second but the fans at Chester have always been amazing to me. I always enjoyed going back there to play after I left the club."
For a while the Darryn and Daryl partnership, although it sounded like a boy band or cast members from an Aussie soap, were neck and neck in the scoring charts. Gradually, Clare pulled away.
"It might sound strange for a forward to say he isn't that bothered about scoring but that was genuinely how I felt," says Stamp. "My role was always more to be a creator, chipping in with goals whenever I could, and I think that's why Mark Wright bought me. Playing with Daryl Clare was brilliant. We just clicked. He's probably the best I've played with in terms of reading what I was going to do. It was always a partnership and I think the fans recognise that.
"Clarey's finishing was phenomenal and I actually felt a bit sorry for Fozzy (Ian Foster), who was a real workhorse but couldn't get in the team. There was quality everywhere in that side. Kev McIntyre was unbelievable on the left, then you had the engine of Paul Carden, Ben Davies and Shaun Carey. It was a great mix of skill and physicality."
The Blues were relentless, but Hereford refused to be shaken off.
Stamp says: "We'd come in after every game and it would be 'Jesus, Hereford won again,' but we also had a confidence about us. Not once did I think about play-offs. If we lost a game we bounced back and won the next one. We didn't have a cup run, which was probably a good thing."
Come the business end of the season, Chester's final three games were Shrewsbury away, Scarborough home and Hereford away. A point at Shrewsbury and a win against the Seadogs would mean avoiding the title race going to the last, tricky game at Edgar Street.
"We went to Shrewsbury and drew 0-0," remembers Stamp. "Daryl Clare was injured and it was a real battling performance. We never looked like scoring but we dug in and everybody stood up to a man. It was a massive achievement."
And so the Maths was simple. Three points against Scarborough on 17 April 2004 and the Blues would be promoted as champions. The gates were locked at about 2pm, a near 6,000 sell-out. How do you treat it as just another game?
Stamp says: "In his team talks Mark Wright had a habit of making the opposition sound like Brazil. He made sure we never took our feet off the gas and it was the same against Scarborough, although they had nothing to play for. Our record at home was phenomenal (only one defeat) so our mind set was that, of course, we were going to win. We knew that if we turned up we could beat anyone and the place was absolutely buzzing."
Stamp reveals that, despite his 19 goals, it wasn't a foregone conclusion that he would start. He hadn't scored for nine games, since getting that winner against the Daggers, and was sweating on his place alongside Clare. However, the manager took him aside and re-assured him that he would lead the line.
"I always loved playing in front of big crowds and Scarborough happened to be a former club of mine, so I still knew a few of their lads and the manager. I will always be grateful that Mark Wright stood by me…I could easily have been dropped."
Then, in the build up to the game, Stamp's wife who'd been to get her hair done got caught up in traffic and only arrived outside the stadium at 3.30pm. That was a shame. As any die-hard Blues fan knows a Scarborough defender dallied on the ball in the 19th minute, Stamp nicked it off his toe, steadied himself and slotted the ball left-footed into the corner, before wheeling off towards the packed Harry Mac.
"It's weird, because I remember that goal happening in slow motion," adds Stamp. "I scored with my standing foot, almost sweeping the ball, and how it went in the bottom corner I will never know. I just jumped in the crowd."
Rachel Stamp arrived in her seat a few minutes later to join the thousands biting their nails for the rest of a nervy game. Finally, the whistle went to signal the end of Chester City's exile from the football league, and there was pandemonium on the pitch.
"Clarey, who'd gone off because he was done in, came running over to me then everyone was on the pitch. It was brilliant. We squeaked over the line in the end. That night we went out in Chester, probably ending up in Rosie's nightclub, and all the fans were singing everywhere. I also remember going to the races a few days later and it was still the same."
The expectation was that the Blues would kick-on under Wright in league two, with the nucleus of a squad that was easily good enough. Being Chester, it didn't pan out that way and Wright walked out on the eve of the season claiming his position was untenable.
"We just saw Mark walk out of training and that was that," says Stamp. "There were all sorts of rumours, but I just kept away from all that."
The manager's shock departure signalled the beginning of the end of Stamp's gloriously brief spell at Chester. Although he played a handful of games under new manager Ian Rush the forward, not for the first time in his career, found himself down the pecking order and eventually moved to Stevenage.
"We thought we'd do well in League Two," he says. "We had a good pre-season, bringing in Kevin Ellison and Michael Branch, but I got injured. I think Ian Rush regarded Daryl Clare and myself as conference players but that's just part and parcel of the game. I don't hold anything against him."
Stamp was a success at Borough, reaching the play-offs, before going on to clubs including Halifax and Gainsborough. He hung up his boots, three years ago, at North Ferriby United, where he was also assistant manager. He doesn't miss the uncertainty.
"When I look back at my football career I would still make the same decisions," says Stamp. "I played at Wembley for Scunthorpe but that season at Chester City was the best of my career in terms of the club, scoring, the city, the people. From the moment I got there I felt like I belonged."
Now 41-years-old, and the father of two football mad sons aged 11 and eight, he's a programme leader in sport, exercise and coaching science at the University Campus North Lincolnshire, in Scunthorpe, and has completed a PhD.
As a footnote, Stamp mentions that one of his students not long ago was one Daryl Clare.
The Big Interview with Darryn Stamp is courtesy of Adrian Lee.