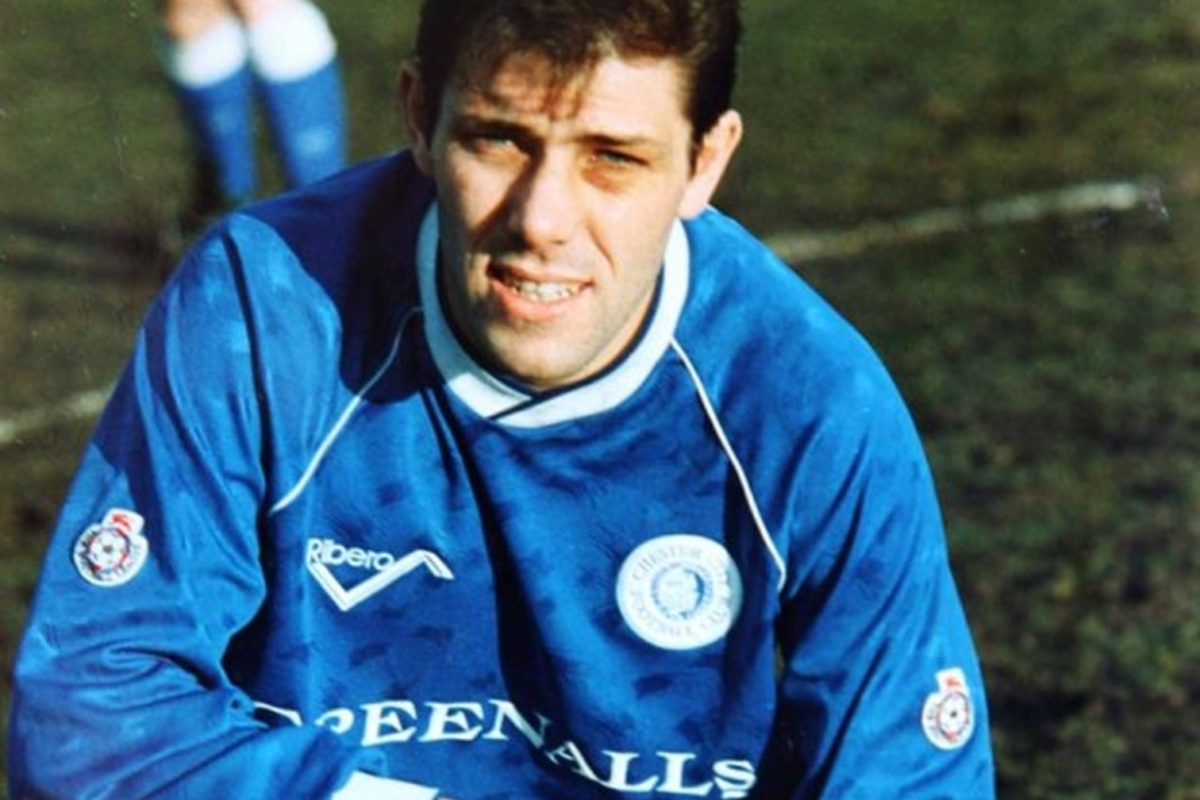 THE BIG INTERVIEW | Eddie Bishop
When Eddie Bishop made the short move along the A41 to join the Blues he thought he was getting the Maracana, but ended up with Macclesfield.

"Harry McNally offered me the club captaincy, sold me this vision of a fantastic new stadium and told me Chester were going to be the biggest lower league team in the North West," he recalls with a trademark chuckle. "Harry said there was loads of money and he was bringing lots of new players in. That was the dream anyway!"
As it happened Bishop, who was lured from Tranmere Rovers in December 1990, joined a team which was constantly fighting against the odds to stay in the third tier. At times, during the club's exile at Moss Rose, he found himself playing in front of three figure crowds.
With hindsight, perhaps he should already have learned not to take anything a football manager promised at face value. Earlier in his career Bishop had been called into the boss's office and offered a move to Norwich – then in the first division. It turned out that Tommy Docherty, who was in charge at Altrincham, meant Northwich.
It's no surprise that Bishop is bursting with entertaining stories. Mention his name and the word character springs to mind. Who can forget that tumble down the stairs from high in the main stand as he tried to put his head to a stray ball, or the time he grabbed the stadium microphone and told a referee to open his eyes?
"It's funny to be notorious more for what I did off the pitch than on it," he says. "But I don't mind that. There are better players than me who aren't remembered as much."
The truth is you don't become one of the most popular players to wear the blue and white stripes by simply being a joker. Bishop was a tidy midfielder who liked to get the ball down, and never gave less than the proverbial 110 per cent. In fact, for a while he was the club's record signing.
"I've still got the receipt for £76,000, which I was supposed to give to the secretary," he reveals. His first goal was a diving header against Exeter.
Playing at Macclesfield was a struggle but the Blues somehow survived, despite being in the same division as the likes of Birmingham City and Stoke City.
"It was a tough league," says Bishop. "The fans stuck by us but it felt like we were playing away every week." In the space of a couple of weeks he played in front of over 11,000 fans away at Stoke, then 631 at home to Reading.
McNally justifiably won plaudits for keeping Chester up, although his direct playing style didn't really suit Bishop. McNally's often abrasive man management also caused conflict.
Bishop says: "I felt he crossed the line sometimes, particularly with some of the young lads, but I understand that he was trying to get the best out of the players he had. I remember we won 3-2 away at Stoke, who were flying, and I'd scored a couple of goals. The dressing room was buzzing, then Harry came in and tore into us because we'd been 3-0 up and ended up hanging on. That was just the way he was – he liked to let off steam and he had a great passion for the game. Don't get me wrong – he made me captain and we had some great nights out."
Another episode that springs to his mind happened on a post season trip to Magaluf, when Harry and the squad were involved in some liquid-fuelled bonding one baking hot afternoon.
"Harry always claimed he was fitter than the lot of us," recalls Bishop. "We were sitting in a beachfront bar and we'd had a few bottles of wine. Graham Barrow challenged him to do 50 sit ups, so Harry got down on the pavement. As he went up and down he didn't realise there was a stone cutting into his back, so he ended up pouring blood.
"Eventually he finished the 50 sit ups and collapsed flat out. As he's lying there Neil Morton got hold of a paving slab from somewhere and laid it on top of Harry's chest. Then he grabbed a bottle of ketchup from the bar and scrawled 'Harry McNally RIP' on the slab. People were walking past going 'My God who's that?'"
Following McNally's sacking, in October 1992, Barrow took over and, although relegated that season, Bishop preferred the new manager's style of football. "Graham was hard as nails on the pitch but a lovely fellow off it," says Bishop. "Some of the players were a bit scared of Harry but Graham took away the fear factor."
Under Barrow the Blues bounced straight back up but it seemed Bishop's time at the club was over.
"I was getting on a bit and I was actually released by Graham. Then he left the club and Mike Pejic came in. I still hadn't got fixed up with another club and Mike invited me on a pre-season tour of the Isle of Man. I did well and got a contract."
That season, 1994-95, was a disaster with defeat in the first seven games and another relegation for his CV.
"In one of the cup games we got beat 6-0 at home and didn't play well at all," says Bishop. "Our day off was cancelled and Mike had us in for extra training. We did a cross country run next morning then watched a video of the game.
"Then Mike sat us in a circle and went round the room, asking how each of us thought we'd played and what we wanted out of football. By the time it got to me it was about five o'clock and I was fed up. I gave myself six out of ten, and said I'd given everything as usual.
"Then Mike asks: 'And what's your ambition Eddie?'
"I said: "Well, at the moment I'd just like to get home and have my tea'. I remember Kevin Ratcliffe putting his head in his hands. It didn't go down very well with Mike and we were all there for another hour."
Memorably, Bishop also played a prominent role in the legendary Valentine's Day game at the Racecourse Ground in 1995 when nine-men Blues came from behind to draw 2-2. He put City ahead from the penalty spot before being the second man sent off, for kicking out at ex Chester player Gary Bennett.
"Benno was one of the funniest characters I've ever met in football, and a cracking lad, but we ended up having a few words after Chris Lightfoot got sent off. It's a bit fuzzy now, but I felt Benno had gone down too easily for one of Lighty's bookings.
"He was backing into me at a free kick a few minutes later and I said: 'Fancy doing that to get your mate sent off.'
"He said something like 'name of the game Bish, name of the game.'
"So I had a glance to make sure the ref wasn't looking and gave him a little knee in the back of his thigh to let him know he was out of order. Benno's gone down on the floor, the linesman's waving his flag and I'm off too.
"When I got back to the dressing room Lighty asked what had happened. The funny thing was we used to car share so I said: 'Well, you can't get home without me'.
"To be honest I was a bit embarrassed and ashamed. The pair of us ended up watching the second half from the stand when Andy Milner beat about six players before equalising. It was incredible to get a result because we were rock bottom of the league.
"I spoke to Lighty about it not so long ago and he remembers being pelted with bits of seat when we jumped up to celebrate the goal. There was a T-shirt made to mark that game, which I've still got, showing the minute I was sent off."
Bishop, who appeared 115 times for the Blues and scored 28 goals, also made a Wembley appearance for Tranmere. After hanging up his boots he dabbled with coaching before completing a fine arts degree. He now stages occasional exhibitions of his iron sculptures, but his bread and butter is making wrought iron gates and railings.
"I'd always had an interest in art," he explains. "I used to do oil paintings of some of the players. I painted Spencer Whelan for his birthday once. When I hit my 40s I just fancied a new challenge."
Did he ever consider stand-up comedy? "I know someone who is better at it, so no," says Bishop, whose career could have taken a different path when he left Tranmere. The likes of Rotherham, Scunthorpe and Inter Milan were all chasing his signature, he reveals. Well, definitely the first two.
"I had six seasons at Chester and I never regretted the move," says Frodsham-based Bishop, who turns 60 later this year. "I came to the full time game quite late, when I was aged 25. So maybe I appreciated it a bit more. I was just thankful that I'd made it after so many years in non-league, and tried to enjoy what I had. I did play with a smile on my face. I played Sunday football until I was 47 and it was the same until I finished. At Chester I shared a dressing room with great lads like Billy Stewart, Barry Butler, Spencer Whelan, David Pugh and Chris Lightfoot and we all bounced off one another. They were good times and it's nice to jog the memory.
"Football's obviously changed a lot, and even in the lower leagues players are like racehorses now. I doubt there are many teams now that when they go away down to London will have six crates of beer on the bus for the trip home."
The Big Interview with Eddie Bishop is courtesy of Adrian Lee.