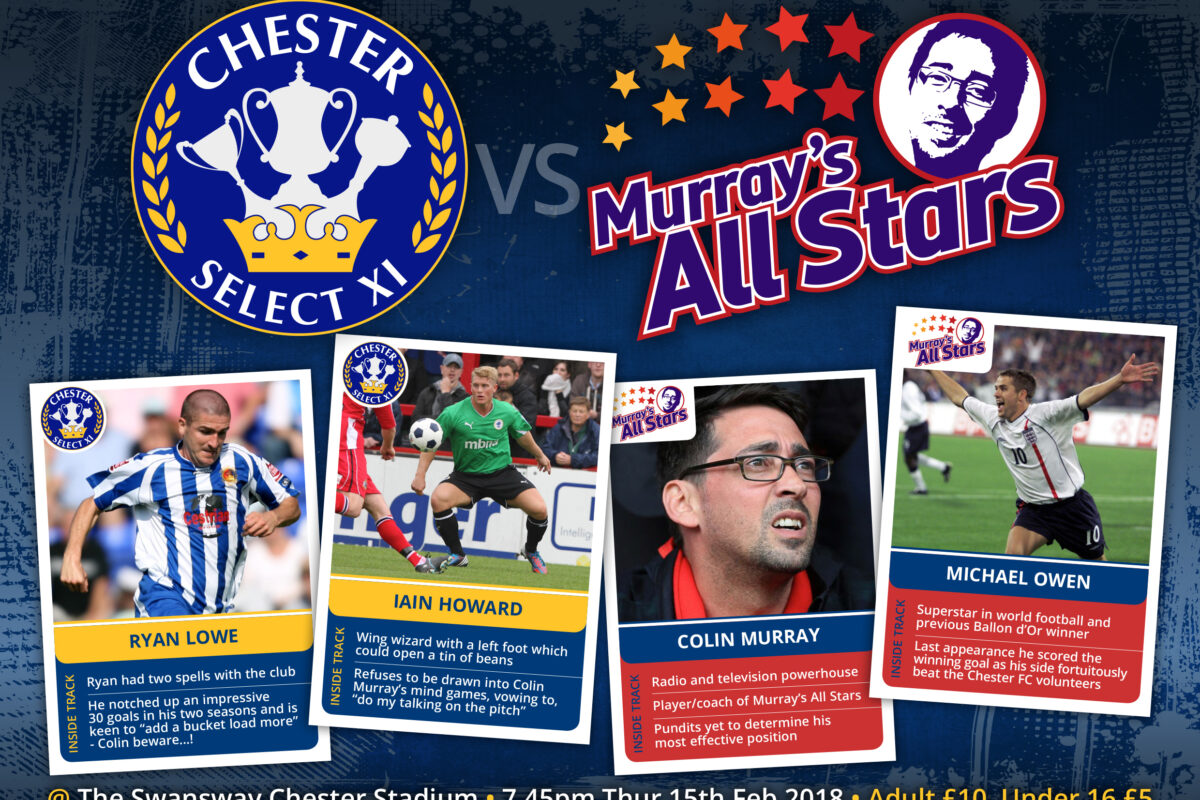 ALL STAR GAME | Murray's All-Stars get ready!
This Thursday, the Swansway Chester Stadium is preparing for a match like no other, as returning Chester heroes meet an All-Star squad put together by broadcaster Colin Murray and superstar Michael Owen.
With the likes of Iain Howard, Paul Carden, Ryan  Lowe and Shaun Reid already returning to Chester, Murray and Owen are finally ready to detail their team so far, with more to be added over the next 72 hours.
Owen said, "Its fair to say we could definitely do with a couple more, especially defenders, but we are in good shape, and considering we've only had days to organise, we are buzzing and ready to go!"
Murray added, "I think the Chester Select have been getting a little cocky. Loads of official tweets about how we are going to get smashed. Funny that, as I can't see any former Real Madrid players in their starting XI!"
The All Stars team includes…
Maik Taylor – A hero of Murray's and a Northern Ireland legend. Has won the first and second division titles and was a Championship runner up. Birmingham City stalwart and, at 46, still a class keeper. Currently working as Northern Ireland's goalkeeping coach.
Andy Griffin – Knows what it's like to play in a Chester shirt but is known best for his spells at Stoke and Newcastle, including an FA Cup final appearance with the latter. A former England U18 and U21 international.
Chris Iwelumo – this striker has had more clubs than a poker player, including Wolves, Stoke, Watford and Burnley. Finished his career with Chester. Still built like a brick outhouse.
Danny Higginbotham – started his career at Manchester United before playing for various top level clubs. He won 'player of the year' at both Derby County and Stoke City. Has also pulled on the Chester FC blue and white!
Danny Webber – Another student of Fergie's Manchester United, Danny scored goals for Watford, Sheffield United and Portsmouth, amongst others, and just two years ago was playing at Salford City.
David Thompson – a product of the Liverpool youth set up, Thommo played in red over fifty times before establishing himself at Coventry City and Blackburn Rovers. Only 40 years old and bang up for Thursday!
Eddie Bishop – Our favourite Bishop. Tranmere Rovers and Chester… stolen by the All Stars from the Chester Select! Will keep him away from flights of steps on Thursday night.
Keith Gillespie – Another Manchester United youngster who went on to star with Newcastle United and Blackburn Rovers, winning the League Cup with the latter.
Michael Owen – a Chester native whose dad Terry proudly played for Chester in the seventies. Liverpool, Real Madrid, Newcastle and some other team that Murray refuses to acknowledge.
Neil Mellor – At 35, he's still got his own hips! Liverpool, West Ham United and mainly Preston North End. Scored one and set one up in Liverpool's famous European night against Olympiacos. Take a bow son!
Paddy McCourt – 'The Derry Pele'! At 34, our youth player! Former Celtic, Rochdale and Derry City player. A scorer of great goals. Still plays today at Finn Harps.
Perry Groves – We all dream of a team of Perry Groves! Well, we used to! An Arsenal cult hero and was named as a Chester player for a year along with Pat Nevin for the 2010-11 season although, thankfully, never played!
Richie Partridge – Who needs Mourinho, we've got Liverpool's Physio!  And, of course, a former Chester player himself. Will be on hand to mop up the Chester Select players' tears at the final whistle.
Michelle Owen – Murray just couldn't resist it! The Owens together! TV and radio presenter and Part of the Sky Soccer Saturday team, she was keen to get involved and it the All Stars secret Weapon! Will get changed in the manager's office!
Justin Madders – local Labour MP and a keen footballer! Said he'll play anywhere apart from the right wing!
Sonny Pike – Yes, that Sonny Pike! English football's ultimate enigma. Signed at seven for Ajax, compared to Maradona, but quit the game before his senior career even began. On Thursday… he plays again!
Colin Murray – terrible at football.
More names will be added, and Murray has also drafted in a manager to relive him of his duties… Kevin Ratcliffe will manage again in Chester!
Ticket details
Tickets are priced at £10 for adults and £5 for under 16s, and are available at the Chester FC Ticket Office at the Swansway Chester Stadium between the hours of 10am-4pm Monday to Thursday this week on 01244 371376. It is also pay on the night at the turnstiles too.