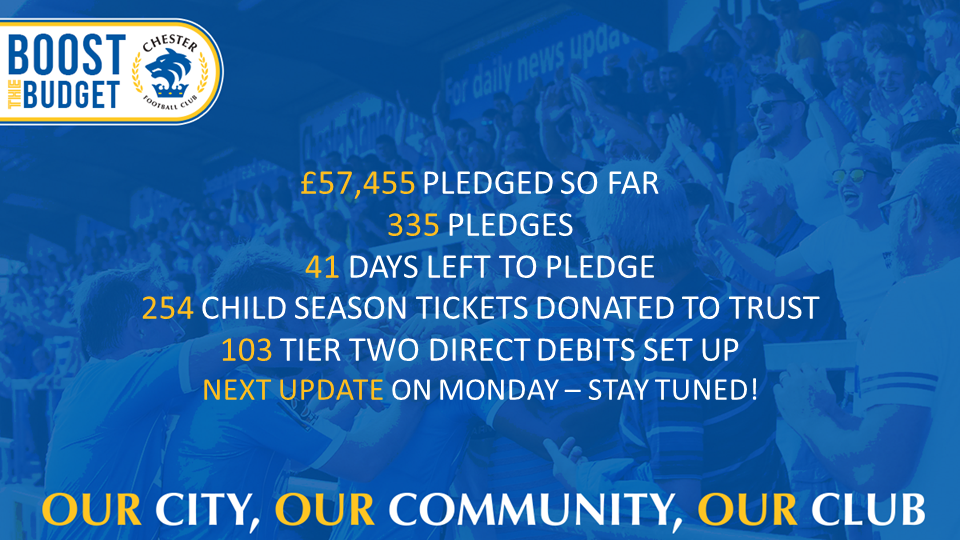 BOOST THE BUDGET | A closer look at the numbers!
After the completion of a successful first week of Boost The Budget, we take a closer look at the numbers!
It was revealed yesterday that a total of £57,455 had been raised already – which is beyond the halfway mark to our aim of £100,000 for the first team playing budget!
In terms of our loyal pledgers, over 330 have now contributed to the scheme. We can reveal that 236 of these people have set up Direct Debit monthly payments – contributing to almost 73% of the overall total.
Of these 236, 103 had opted for the Tier 2 Our Community choice. This means you pay £10 a month for an entry into the fan experience draw, a child season ticket is donated into the Community Trust and you get your own Limited Edition 10 Years Chester FC pin badge!
In monetary terms though, the 87 pledgers into Tier 3 Our Club option is the one which has raised almost half of the amount that comes from monthly payments. This tier gets you all of the above mentioned prizes AND you can pick from one of the fan rewards below!

Please note, all contributors will be contacted to select their reward from the menu within the coming days.
As mentioned, based on your Tier selection, Chester FC 2020/21 Child Season Tickets will be given to the Community Trust to distribute within the local community. We are delighted to inform you that so far 254 have been donated to the Trust!
So, you're not only contributing to Chester FC and taking advantage of fantastic rewards, you are also giving back into the local community and possibly introducing our supporters of the future to the Deva Stadium!
Thank you to everyone that has donated thus far, it has been a superb start. However, we cannot stop there – we still need to push hard up to the £100,000 mark by the end of July. Keep pledging and keep spreading the word!
The next Boost the Budget update is on Monday – stay tuned…