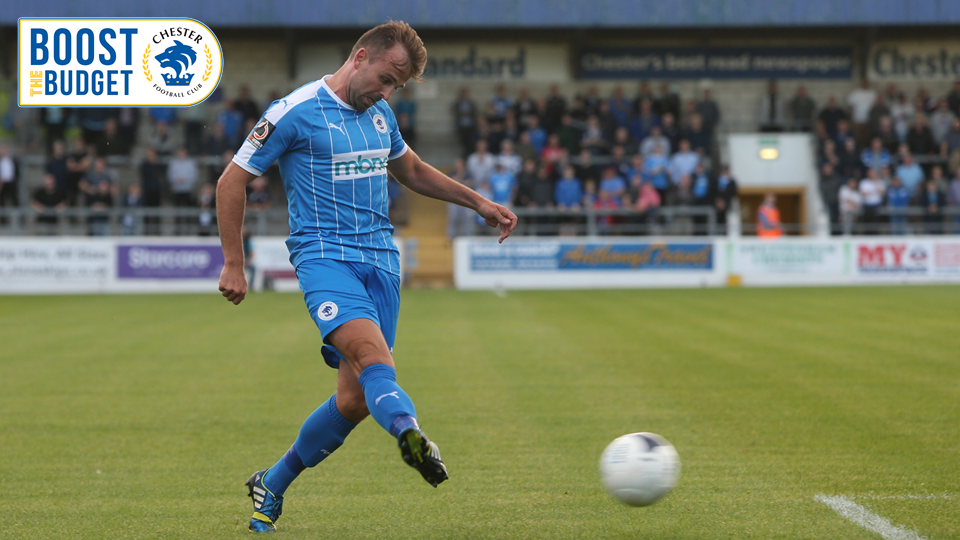 BOOST THE BUDGET | 'Player Power' joins the fundraising scheme!
A hugely successful first week to the Boost the Budget campaign saw the Blues pass the halfway mark yesterday on the road to raising £100,000.
It has been a scheme superbly backed by the fantastic Chester FC supporters, and this week we also saw a bit of 'Player Power' added to the fundraising drive.
On Wednesday evening, we saw the start of the Blues first team players contributing to the scheme by setting up their own Direct Debits to donate to the cause.
Kev Roberts, Will Goodwin, Joel Taylor, George Waring, Jamie Morgan and John Johnston were the first to show we are all #InItTogether. The support continued the following day with contributions from George Glendon, Brad Jackson, Matty Hughes, Danny Elliott, Lloyd Marsh-Hughes and Anthony Dudley!
30-year-old Kev Roberts was the first to contribute to a scheme which aims to maintain the hybrid training model and enable Bern and Jonno to produce and improve players.
As a player who came through the Chester City Academy over a decade ago, Roberts more than most understands the importance of the scheme.
He said: "The lads started talking about the whole Boost the Budget pledges in our player WhatsApp group in the week.
"We all saw how much the fans had put in the budget in just a few days – it was remarkable. It showed us that everyone is wanting to help out.
"I'd suggested to the lads that we should do our bit as well – we are all in it together and no one hesitated. Everyone agreed straight away.
"It is not just for the club and first team – but the youth team is so important to Chester Football Club as well. As a club we always pride ourselves on producing players for the first team. I've experienced it first-hand having joined the club at 14 and coming through the system myself.
"It's vital that we carry that culture on into the future so we can have plenty more Matty Waters' and Will Goodwin's coming through."