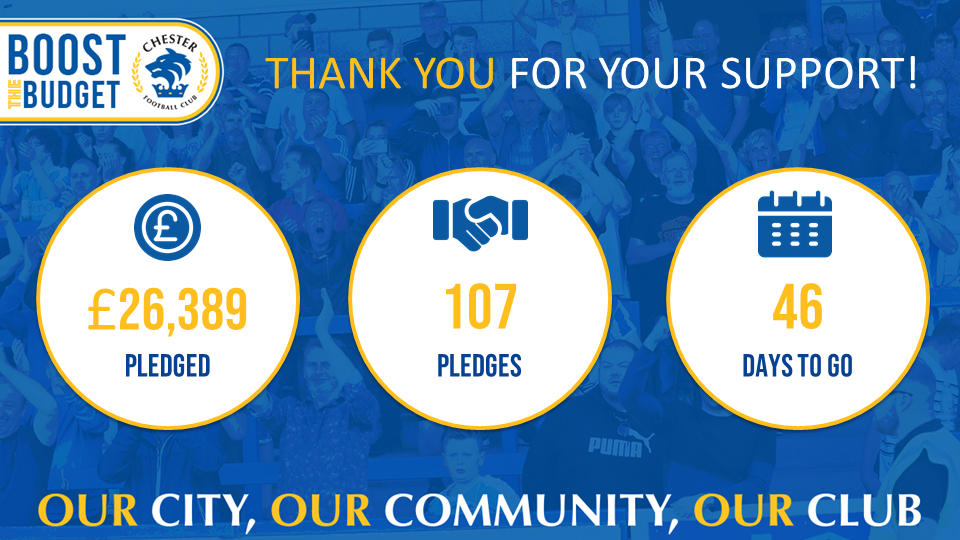 BOOST THE BUDGET | Jonno reacts to a superb start in campaign
Chester FC co-manager Anthony Johnson has hailed the club's supporters following an impressive start to the Boost the Boost campaign.
Pledges have passed £26,000 in the first few days as the Blues aim to raise £100,000 for next season's first team playing budget.
As well as knowing their support is helping the team on the pitch, fans can secure exclusive rewards in return for a one-off donation or monthly contribution.
For Jonno and Bernard Morley, the response underlines the incredible backing the club receives from supporters.
"The fans at Chester are the best supporters Bernard and I have ever encountered," said Jonno.
"We appreciate that with us being a fan-owned club we are asking the same people to put their hand in their pocket again and the fact they keep doing it shows what the club means to them.
"The fans have backed us since the day we arrived and continue to back us. That means a lot to us and we appreciate every contribution made to Boost the Budget.
"We've seen the levels of support the club has and that really excites us as managers when we think about where we want to take the club."
While there are uncertain times for football clubs, Jonno said Boost the Budget will enable him and Bernard to bring in players with the right kind of profile in preparation for next season.
"The big thing we look for in a player is hunger," he said.
"We want players who are hungry to learn, to develop and to progress.
"You look at Brad Jackson, Joel Taylor and George Glendon, they are all top players for now but also recruited with a longer term perspective for the club in mind.
"With quality players aged 25 and under, there is a residual value for the football club and while we hope they will be here for three or four years and help us progress, if they come in, do well and we move them on to a club in the Football League then that's great for us as a club and great for them as players.
"We want to be clear that Boost the Budget isn't about raising money for a short-term fix, this is part of a longer term plan and will allow us to put things in place to get the club back to where it wants to be."
Boost the Budget is running until 31st July 2020 and features five tiers of rewards for fans to choose from.
Donations can be made via PayPal, direct debit, bank transfer or cheque with funds going towards the playing budget for the 2020/21 campaign.