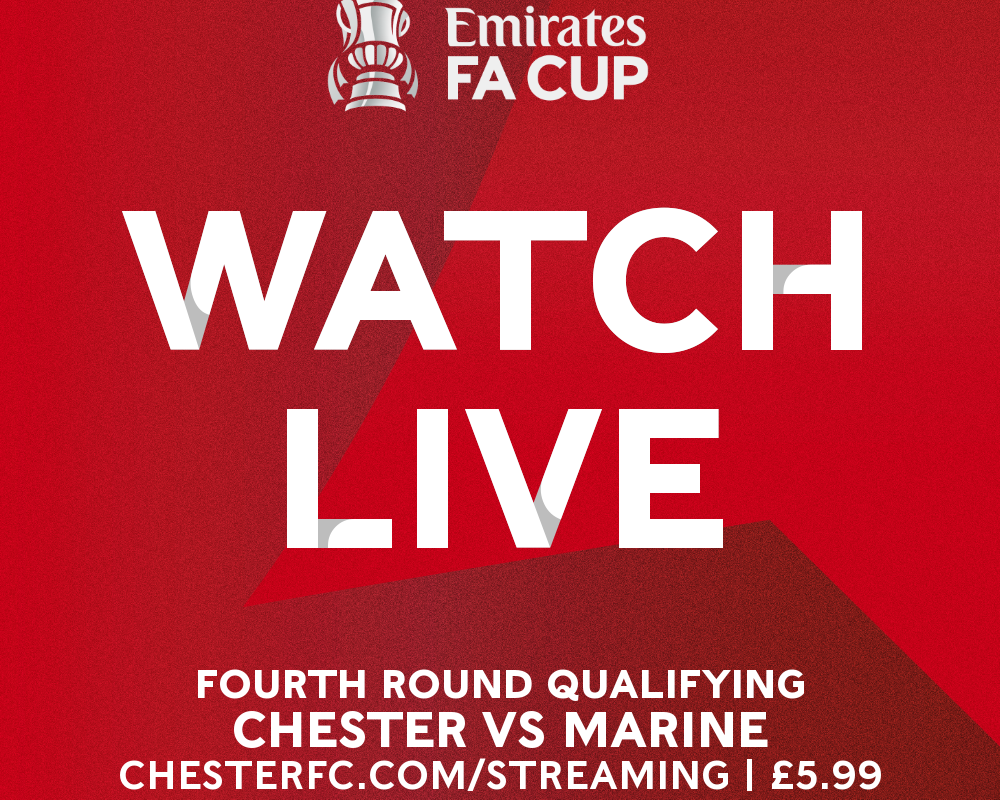 BREAKING | Chester vs Marine FA Cup tie to be streamed live!
Chester Football Club is pleased to announce that Saturday's Emirates FA Cup tie against Marine will be streamed live!

The game will be available for fans to watch on www.chesterfc.com/streaming at a discounted price of £5.99 following an agreement between the two clubs and we thank our visitors for this.
The Fourth Qualifying Round tie kicks off at 3pm at the Deva Stadium. Please note as this is a cup match, season ticket holders will not have free access to this stream.
You can find a list of FAQs below. Questions or feedback related to streaming can be sent via email to fans@chesterfc.com.
Chester FC Streaming FAQs
How do I buy?
You can purchase streaming passes at www.chesterfc.com/streaming. Follow the on-screen instructions and make your payment using a debit or credit card or PayPal. You will need to create an account and a password with InPlayer before making your first purchase.
Do I need to download an app?
No, InPlayer is a web-based streaming platform and can be watched on a desktop, laptop, tablet or mobile device using your browser.
How do I watch?
Once you've purchased a match pass, coverage will start 15 minutes before the scheduled kick-off time and you can simply click player to access this.
Can I watch the stream on my TV?
Yes, you can set the stream up on a laptop and connect this to your TV using a HDMI cable.
What will the stream footage be like?
We will be providing the same high quality professional footage previously used for match highlights. The club has invested in new technology to ensure the best possible internet speeds for the stream.
Will the stream have commentary?
Yes, the stream will include full match commentary from the Seals Live team.
What other features will there be?
The stream will feature a scoreboard, timer and graphics. We are also hoping to provide exclusive pre and post-game content for future games.
Who do I contact if I need help?
InPlayer will be handling all customer service relating to account access and payment enquiries. You can visit the InPlayer support centre at https://support.inplayer.com, where you will helpful advice and contact details should you require them. If you have a general query regarding streaming or content, please email fans@chesterfc.com.