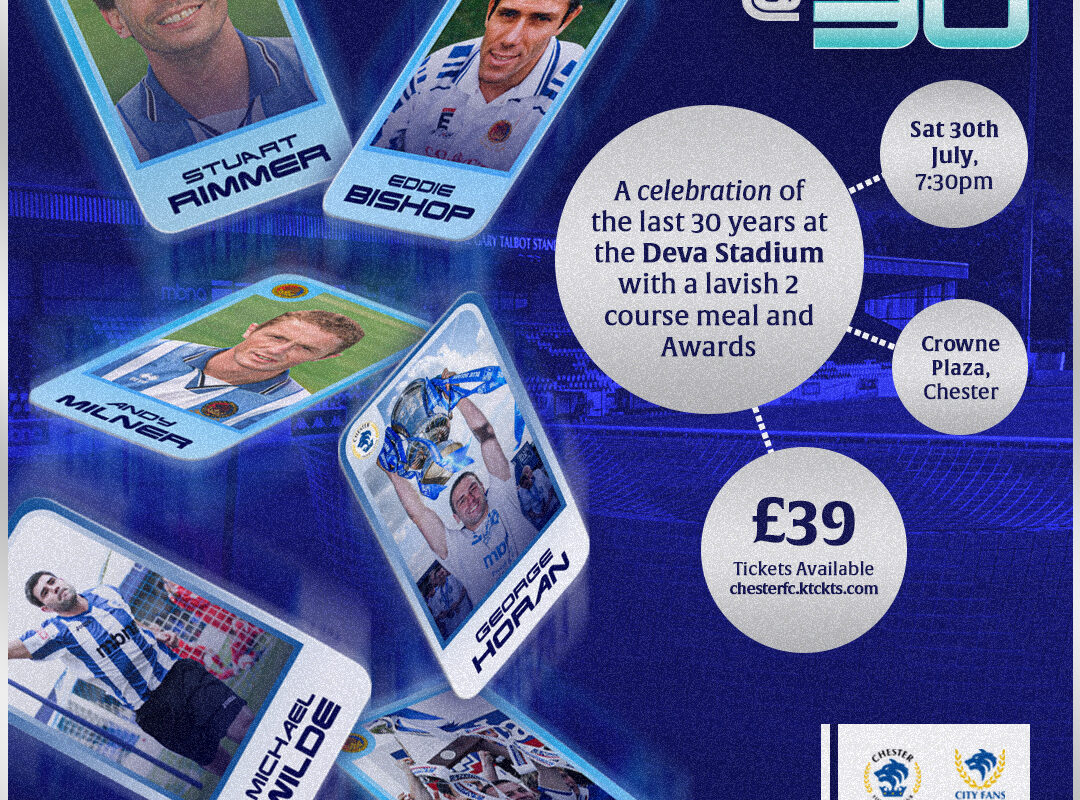 DEVA AT 30 | Last chance to get your tickets today!
It is your last chance today to get your tickets for the 'Deva @ 30' event that is taking place on the evening of Saturday 30th July (7.30pm start).
The event, kindly sponsored by MBNA is taking place at the Crowne Plaza hotel in Chester, and will feature a whole host of former players returning to help celebrate 30 years of football at the Deva Stadium.
On the night we'll have a mix of entertainment, awards, an auction, a special tribute to many former Blues and also a sumptuous two-course meal to enjoy.
The latest names to be confirmed in attendance are Paul Linwood and Roger Preece!
Also attending the event are…
1980's and 1990's legend and club record goal scorer Stuart Rimmer, who scored 134 goals in just over 350 appearances for The Blues, with the majority of those goals in the 1990's.
Andy Milner, who played alongside Stuart and scored 'that goal' alongside many other great goals during his 100 appearances, also joins us for the evening.
Julian Alsford who played over 150 times for the club, will also be there on the night too.
Other stars of the 1990's, Eddie Bishop and Chris Lightfoot also join us too having featured in nearly 400 Chester matches between them, with both players enjoying great times at the Deva Stadium.
Paul Carden, who amongst 150 appearances for the club, lifted the Conference championship trophy back in 2004 and will also join us for the night too, along with Kevin Ellison, who made nearly 100 appearances for Chester and who scored some truly thunderous goals.
John Danby, who featured for both Chester City & Chester FC was a record setter in the 2000's at the Deva when he started 133 successive matches in goal for the club, a record that had previously stood for 40 years. John also made a further 100 appearances in the last decade too.
Also, from the 2010's we have three times Championship winners George Horan, Michael Wilde and Iain Howard, all joining us for the night along with management duo Neil Young and Gary Jones.
Tickets priced at £39 are available to purchase from the online Chester FC Box Office and also at the Ticket Office at the Deva Stadium.
We look forward to seeing you there for our 30th Anniversary event, on the 30th July!