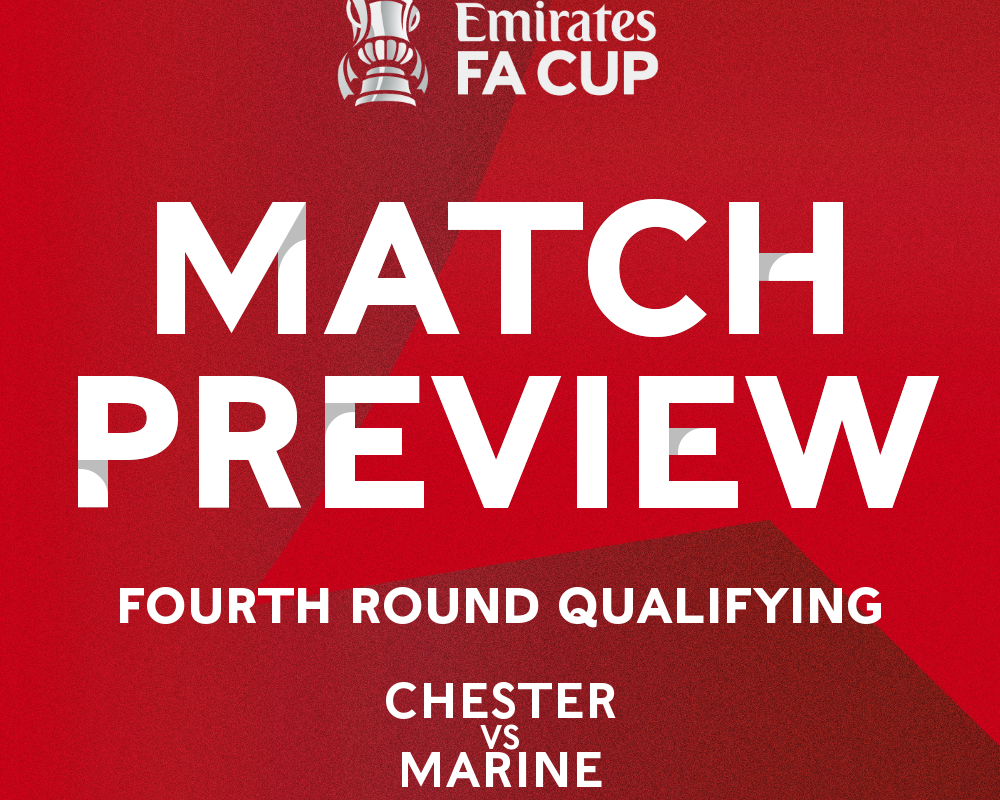 FA CUP PREVIEW | Chester vs Marine
Chester will look to advance to the First Round Proper of the FA Cup tomorrow afternoon, with Marine the opponents.
The Blues were very unfortunate to lose their first match of the season last Saturday at Spennymoor. A 2-1 defeat with the goal coming in the last minute, Bern and Jonno's side were left to rue missed chances in the second half – despite the winning goal coming in controversial circumstances.
After a penalty shootout win at Worksop Town, and a magnificent victory at home to the Moors last Tuesday, the Blues are now just one win away from the First Round Proper. Midfielder Paddy Lacey misses the match, serving the last of his three game suspension – but other than that the Blues are expected to be at full strength.
Marine hosted the Blues in pre-season, with Bern and Jonno's side coming out 4-0 winners that day. Their Manager needs no introduction, the legendary Neil Young guided us to three successive Championships following reformation in 2010.
His side thrashed Nantwich Town 4-1 in the last round to advance to this stage.
Kick off tomorrow at the Deva Stadium is 3pm. If the tie is level after 90 minutes, as per the last round, we will go straight to a penalty shootout. The prize fund sees the winners of this tie gain £9,375 in prize money – with the losers getting £3,125.
LAST ROUND HIGHLIGHTS
MATCHDAY PROGRAMME
Issue Three of the new look Cestrian programme is available for the game! The cost is just £1.50 for a 32-page digital copy. Printed copies will also be available for £2 + P&P. Features include…
A look at a classic Marine meeting from 2012
The thoughts of the Gaffers
Two memorable FA Cup 4QR clashes
…and more!
The match programme will be available to buy online prior to kick off via the link below – stay tuned!
MATCH COVERAGE
Kick off tomorrow at the Deva Stadium is 3pm. This match is being played behind closed doors. However, we have match updates and our live streaming service to keep you up to date.
We will have team news FIRST on our social media channels from 2pm, with match updates on our Twitter account from the game. As well as our full match stream with commentary from Seals Live's Phil Turner and Matty Johnson.