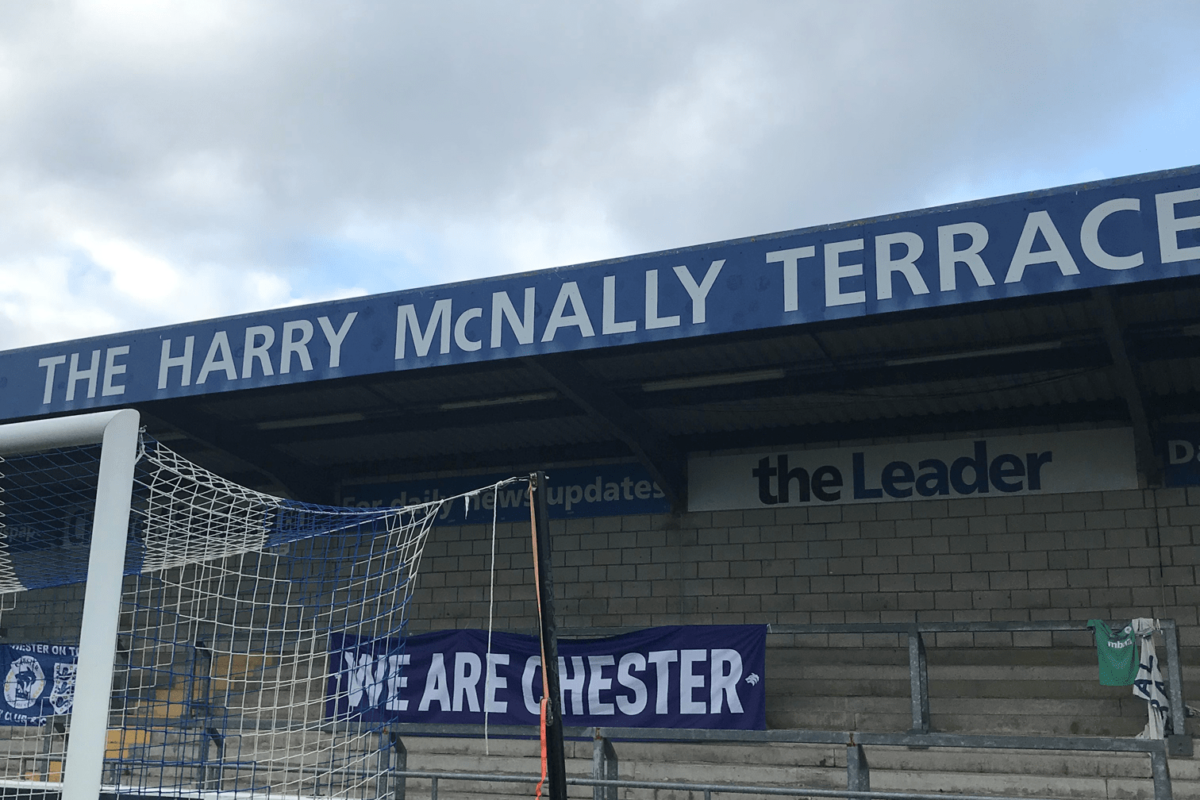 FANS | Chester FC Return of Fans Frequently Asked Questions
Following last week's successful limited-attendance pilot, Chester FC hosts its second game since the return of supporters tonight with the visit of Bradford (Park Avenue) in the FA Trophy.
An updated list of Frequently Asked Questions can be found below for this evening's game to help explain some of the matchday changes and ensure fans have a safe and positive experience.
We would again ask supporters to familiarise themselves with the Spectators' Code of Conduct and remind you how important it is for the club and its ability to continue playing matches with crowds that everyone in attendance follows the guidance and cooperate with our stewards and staff at all times.
Can I use my season ticket for this game?
No, season tickets do not include cup competitions so in order to attend you are required to have purchased a match ticket and bring this along with you or show the QR code from the ticket on your smartphone. You will not be able to use your new season ticket card to gain entry.
Can I buy a ticket or pay on the gate?
Unfortunately not. Ticket sales closed at 6pm on Monday to assist the club in its planning for the game. You will only be able to attend if you have purchased a match ticket and no tickets will be available at the ground.
I haven't collected my season ticket card yet. Can I pick it up before the game?
The ticket office will be open for supporters to collect their season ticket cards, however please allow yourself plenty of time and keep a safe distance when queueing.
My ticket is for unallocated seating. Where can I sit?
If you are a season ticket holder who has purchased a match ticket, please sit in the seat you have been allocated for the 2020/21 season.
If you are a non-season ticket holder who has purchased a match ticket, please sit in a seat that has not been taped off, marked with a red cross as 'Do Not Use' or a white label marked as 'Reserved'. Please avoid Block E which is reserved for sponsors, guests, officials and season ticket holders with allocated seats in this area.
Please ensure you adhere to social distancing at all times and remain in your household or social bubble.
Will parking be available?
Yes, car parking will be free for all supporters for this match. Please maintain social distancing when leaving or returning to your car. If you haven't yet collected your parking pass, please avoid collecting this before the game to ease demand on the ticket office, unless you still need to collect your season ticket card.
Supporters are advised car parking charges of £2 per car will apply from the next fixture. You can purchase a car park season pass from the ticket office for £30 or are requested to use a contactless payment method to reduce cash handling.
Do I need to do anything before I arrive at the stadium?
All spectators must undertake a Covid-19 self-assessment before arriving at the stadium and you MUST NOT attend if:
You feel unwell
You are self-isolating
You or someone you have been in close contact with has tested positive
You or someone you have been in close contact with has symptoms of coronavirus, including a high temperature, a new, continuous cough, sore throat, headache, or a loss or change to your sense of smell or taste
What time should I arrive at the stadium?
Plan your journey in advance and arrive at the stadium in plenty of time. We are aiming to have the ground open from 6.30pm for supporters to gain entry.
What happens when I get to the ground?
Please ensure that you arrive in plenty of time to go through the entry procedures, including a temperature check. If you record a temperature of 37.8 degrees or above, you will not be permitted to enter the ground and should return home.
There will be no turnstiles in operation and access will be through the exit gates. Your season ticket card has a unique barcode, which will be scanned upon entrance. You will only be able to gain access through your specified entry point. The use of the NHS App with the stadium QR Code will speed up your entry. Please use the hand sanitiser dispensers that can be found throughout the stadium.
Please avoid bringing large bags into the stadium and only do so if absolutely necessary, to avoid slowing down the stadium entry process.
Where can I stand on the Harry McNally Terrace?
The capacity of the terrace has been reduced significantly to ensure there is sufficient space for social distancing to be maintained. Please remain in your family or social bubble, be aware of your proximity to fellow supporters and cooperate fully with our stewards at all times.
Do I have to wear a face covering?
Yes, everyone attending the game must wear a face covering when entering, exiting and moving around the stadium. You may remove your face covering once in your seat or standing area and while eating or drinking, however the club strongly encourages supporters to wear a face covering at all times. If you do not have a face covering or a medical exemption, then you will not be able to enter the ground.
Will the kiosks and bars be open?
No, the Blues Bar and Legends Lounge will both be closed and there will be no refreshment kiosks open inside the stadium. Food and drink will be available from two catering vans outside the stadium, however this must be purchased before entering the ground. One van will be serving drinks and confectionery, the other will be serving hot food. Please keep a safe distance when queueing.
Will the Club Shop be open?
No, the club shop will be closed. You can continue to shop online at www.chesterfcretail.com.
Will I be able to buy a programme?
No, there will be no programmes available to purchase at the ground. As a season ticket holder, you will receive a free digital copy via email at approximately 6.30pm. You can order digital copies for £1.50 and printed copies for £2.00 plus postage from MatchDayCreative here.
Will there be toilets available?
Yes, when using toilet facilities, please be aware a queuing system will be in place on a one in, one out basis. Be patient and considerate towards other users, and follow the instructions of our stewards and staff. Where possible, try to avoid peak times (such as half-time and the end of the game). Maintain good hand hygiene at all times around the stadium – use the sanitiser dispensers provided and avoid touching your face, or handles and railings whenever possible.
Can I leave my seat during the game?
Please remain in your seat/standing location for the full game if possible and avoid unnecessary movement. If you need to leave your seat, please wait until gangways are clear, avoid face to face contact and follow stewards' instructions. At all times please observe social distancing and avoid close contact with others not in your social bubble.
What happens at full-time?
Please be ultra patient when leaving the stadium and listen to the advice from stewards. In most cases you will only be permitted to leave upon the direction of a steward to ensure staggered exits across the stadium footprint and thus mitigate any risk. It will take longer than normal to leave due to these procedures.
I have another question or query. Can you help?
Please email info@chesterfc.com or phone 01244 371376 and we will do our best to assist you. We are receiving more enquiries than usual at present so your patience is appreciated.