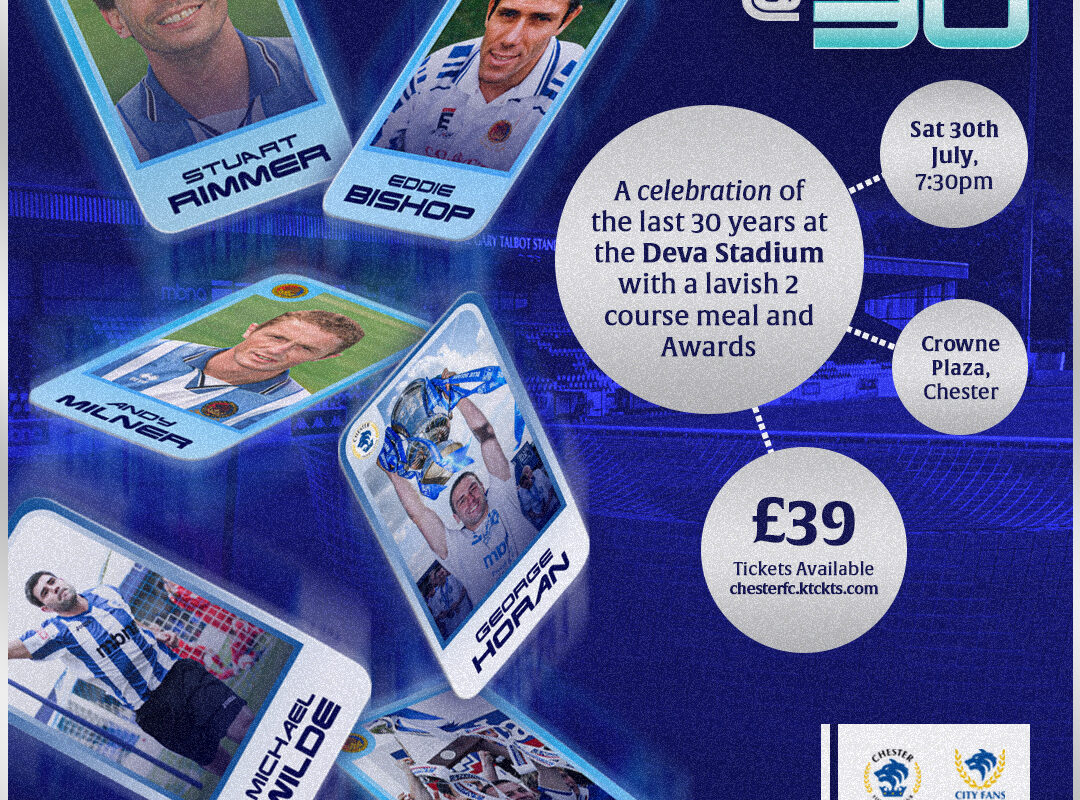 NEWS | Book your tickets for the Deva @ 30 event!
Chester FC are delighted to announce a special event commemorating 30 years of the Deva Stadium.
'Deva @ 30' will take place on the evening of Saturday 30th July at the Crowne Plaza, where we'll be joined by several legends from our last 30 years including the likes of Stuart Rimmer, Eddie Bishop, George Horan, Andy Milner, Paul Carden and Michael Wilde with more to be announced too! Former manager Neil Young will also be there alongside new manager Calum McIntyre.
The event, being generously sponsored by MBNA, will also feature a special Awards section which will be dedicated to the last 30 years of football at the Deva Stadium, and your ticket will also include a sumptuous 2 course meal to enjoy as well!
The 2022/23 Chester FC squad will also join us providing a great opportunity for fans there on the night to meet the new faces along with our management team.
'Deva @ 30' will be our biggest event of the year and we look forward to seeing you there on the night.
Tickets priced at just £39 – but if you buy before the 4th July you'll secure your ticket for just £35!
If you are looking to book a table, there will be tables of 10 available. We recommend you book at the earliest opportunity as there are a limited amount of tickets available for this event.
Director Jeff Banks said: "We're looking forward to Deva @ 30 which is the first chance in a few years that we've been able to come together for a major event and we'd especially thank our principal partners, MBNA, who are kindly sponsoring the event."
For more information about the event please email fans@chesterfc.com.