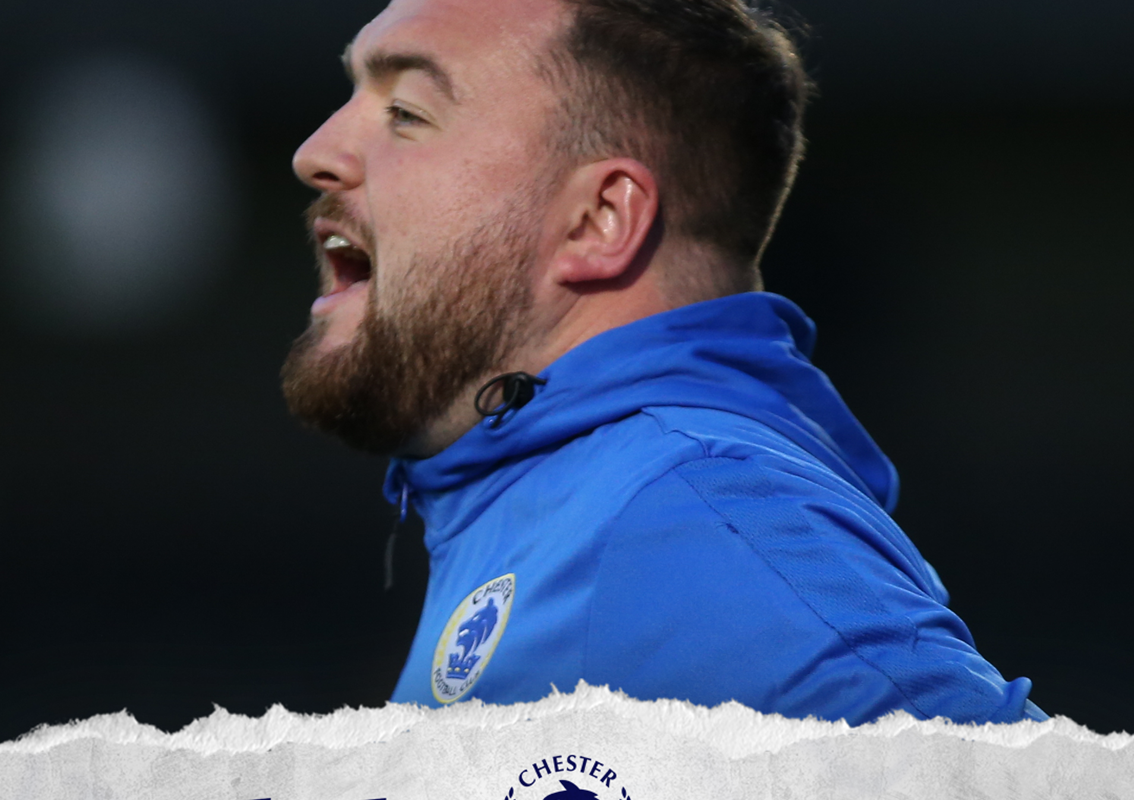 READ | Manager's Pre-Season Blog: Week 1 Preview
Across pre-season, Blues Manager Calum McIntyre will update supporters as we build to the new season. Today he looks ahead to the start of the first week of training…
I am really clear the dynamic as to how our club operates and the amount that we ask of supporters that it is vitally important that supporters from all aspects of the fanbase remain informed as to where things at with the Team. With this in mind, during pre-season I am looking to update our supporters weekly as to all that is going on with their team ahead of an exciting season. I hope supporters find these updates informative and help them see where we are at with our group as the season approaches.
Ultimately, it has been an immensely hectic close season with the players returning to training on Tuesday. Obviously coming into the job slightly after the season ended, it was important that significant work took place to help us "play catch up" on clubs that may have had a little more time to plan for the coming season. As supporters can see, there has been significant effort ploughed in at all levels to get us in the best possible place for the 2022/23 campaign on and off the pitch. From a football point of view, as well as the obvious recruitment that takes place between seasons, our staff have been working to ensure that the move to daytime training is a smooth one. It has been an immensely demanding period to get this turned round in a limited amount of time but we are excited about the training structure we have put in place.
We feel we have designed a model that will give our players as professional experience as is realistically achievable for our level. We might not be able to match all that takes place at the top level, but there will be a culture and an attitude that we can replicate as much of what is relevant to us to help us produce on a Saturday. Our players will be with us for three mornings per week, training on a Tuesday, Thursday and Friday morning. Before the 38 weeks or so of the season kicks off on August 6th, there is obviously a pre-season period that is hugely important for a successful season. As a coach, I really looking forward to pre-season, although I am not entirely sure this sentiment is shared by players! I view this time of year as a real opportunity to cement principles and form a group and ultimately set standards and put foundations in place for what you want to achieve. It isn't as simple as just working physical aspects with the players, it is the chance to form the building blocks in the identity of our team. We have planned each of the 16 training sessions that we will have with the players over the next 6 weeks prior to the first game of the season. The first week is really important that we start to form relationships amongst the group, factoring in a number of new faces amongst the core of last season's group. The players will come in on Tuesday for a technical session, where we will ultimately look to get the lads back with a ball at their feet with a morning full of technical practices and small sided games rather than anything too physical demanding. On Thursday, all of our players will undergo their physical testing with our new Sports Science partner which we will share more about during the week. We want to offer the players as much access to genuine specialists as possible. This testing will allow us to get some baseline data for all the players relating to some fitness based tests but also looking at their range of movement and their body composition. We will repeat these tests at the beginning of the final week of pre-season. Friday and Saturday will see us begin to increase the intensity of the sessions with the type of practice beginning to incorporate a little bit more distance before beginning our running programme. We don't simply run for the sake of running, we follow a specific programme from start to finish designed to really benefit the lads ahead of the new season. With no game in our first week, we are looking to really benefit from some extra time on the training ground and begin forming the dynamic of the group with a number of new faces.
I am really pleased with our recruitment so far. I have spoken about each player individually but we have a really clear model for our player recruitment. There has been a number of younger players announced in our most recent signings to add the significant experience of the likes of Liam Edwards and particularly Adam Thomas that were signed earlier on in the summer. It is worth noting that these younger players have all already had significant exposure to senior football, playing a number of games in and around these levels. It is vital we are brave enough to recruit these players that are excelling in the leagues closest to us. It would be really foolish from my part to believe that our squad is complete and we are definitely two, if not three, players way from where I would like us to be.
There are obviously positions where we need to recruit and there are obvious attributes within the group we would like to add to. As I say, I would be foolish to not recognise this but it would be equally foolish to get too worked up about the make up of the group from the outside before the end of June. For me, it would be similar to watching a house be built from scratch and being frustrated at various stages whilst the house doesn't have doors, window or even a roof. It isn't really fair to assess the squad until recruitment is complete and even then, it is what it will do on the pitch, not on paper that will matter. Interestingly though, if we were forced to start the season with the current squad, our most likely starting eleven would give us an average age that is significantly higher than the team League Champions Gateshead fielded in the fixture they sealed the title in and would be at least two years older than the side one club fielded in the play-off Quarter-Final last season. In terms of the recruitment of new players, it is worth mentioning that high regard a number of our players that were with us last season or even earlier are held in. When we have spoken to potential new signings at this level, there is a genuine feeling that we have the core of a very good squad. I have been asked a lot in the last week or so about loan signings and whether we will use the loan market. We most definitely will and last season is a prime example of the calibre of player that is available. However, realistically, the really desirable loan signings are not available until towards the end of pre-season as they remain with their parent club during this pre-season period as they take part in their friendly fixtures. We are no different with our own our young players that we would look to loan out this campaign, they will certainly be spending the first part of pre-season with us ton ensure they are a part of the group in the first instance.
Everyone is very excited about the season ahead but the role of the supporters during the close season cannot be understated. Whether it is the phenomenal efforts involved in achieving the initial Boost the Budget target or the magnificent Season Ticket sales, our supporters have once again shown their unique support for the club and their team. I am not simply saying it when I say that I believe our supporters have a huge part to play again this season. If our supporters can continue to be truly behind us throughout, whether that is a match day, through supporting club initiatives or simple injecting some positivity into what we do that can have a such a positive impact on us all. No doubt I will pick up closer to the season as to the role our supporters can play, but for now, please recognise your stunning efforts during the close season but don't underestimate how impactful that level of positivity can be. I am really aware of the responsibility I have to deliver for the people that have backed this club so well once again and I know our players feel the same.