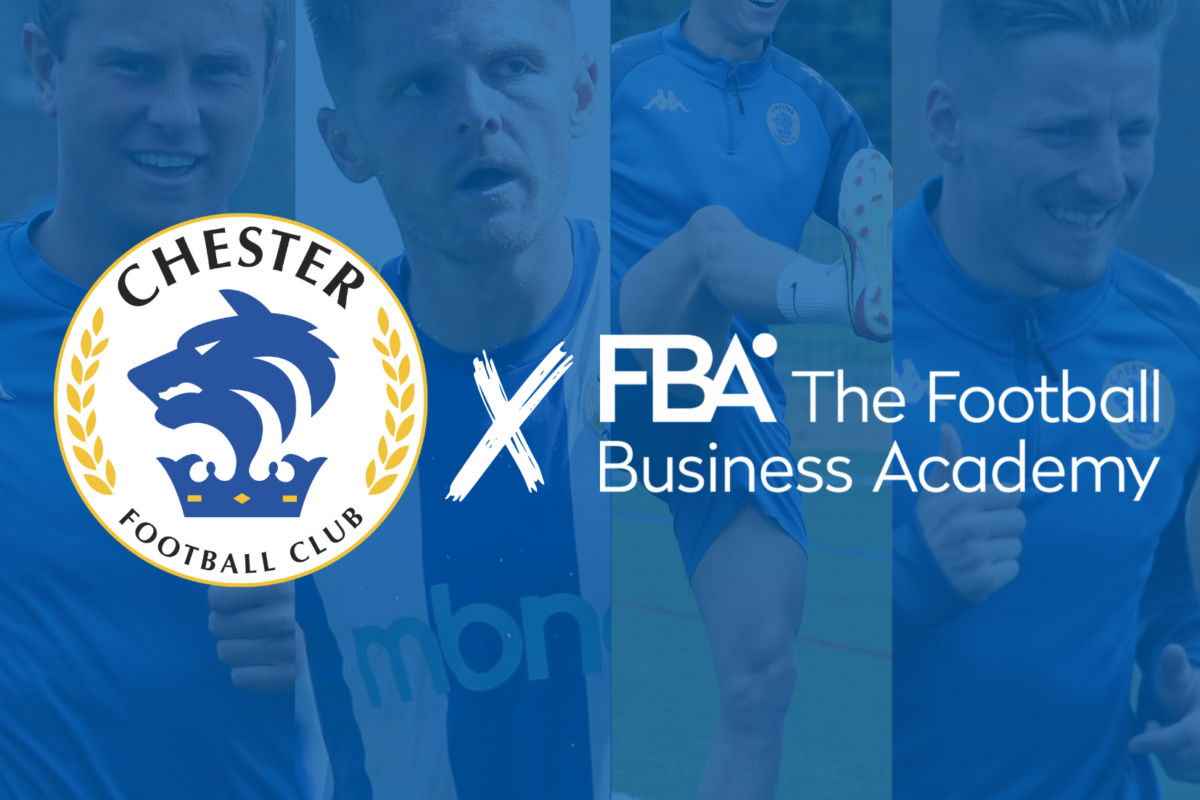 NEWS | Chester FC partner up with the Football Business Academy!
Chester Football Club are pleased to announce an exciting new partnership with the Football Business Academy.
We are proud to be the first non-league club to be teaming up with the FBA in an agreement that will see them assist with our progression and development.
This partnership will also provide opportunities for the next generation of industry leaders from the FBA to be involved at the club through the Student Business Project.
The FBA already partner with Premier League side Brighton & Hove Albion, Scottish giants Rangers, as well as clubs from Spain, France, Portugal, Turkey and Holland.
The Football Business Academy is a global leader in football business education whose goal is to accelerate the professionalization of the football industry and develop current and future leaders in the game. Founded in 2017 and based in Switzerland, The FBA is best known for its flagship degree – the Professional Master in Football Business – which is a 12-month program with two intakes each year.
Furthermore, various football-related stakeholders seek the services of The FBA for the creation and/or delivery of a variety of tailor-made workshops, certificates, or diplomas.
Other partners of The FBA include Common Goal, Irish FA, CF Fuenlabrada, SL Benfica, Socios.com, Mazatlán FC, YouFirst, Club Nacional de Football, RCD Espanyol, Soccerex and Sportive Ways.
Follow The FBA on LinkedIn, Instagram, Twitter, Facebook.
Marcin Chmielewski, Head of Partnerships for The FBA, said: "We are happy to welcome Chester FC into our FBA Family.
"The club's objectives and recent actions go in line with our mission of professionalising the football industry and educating the future leaders of the game.
"Our candidates will work on consulting missions to support Chester FC with their business strategy and keep developing the club on and off the field."
Chester FC's General Manager Georgina Slawinski, who is an alumna of the FBA, said: "We are delighted to be partnering up with the Football Business Academy.
"Having been through the FBA programme myself and experiencing first-hand the benefits it gave me, I was very keen to set up a partnership that both parties will hugely benefit from.
"It gives us the opportunity to bring in some talented and creative students to work at the club on a project that will not only be fantastic for us but will also see students gain invaluable experience behind the scenes to help them with their journey into their football business career."