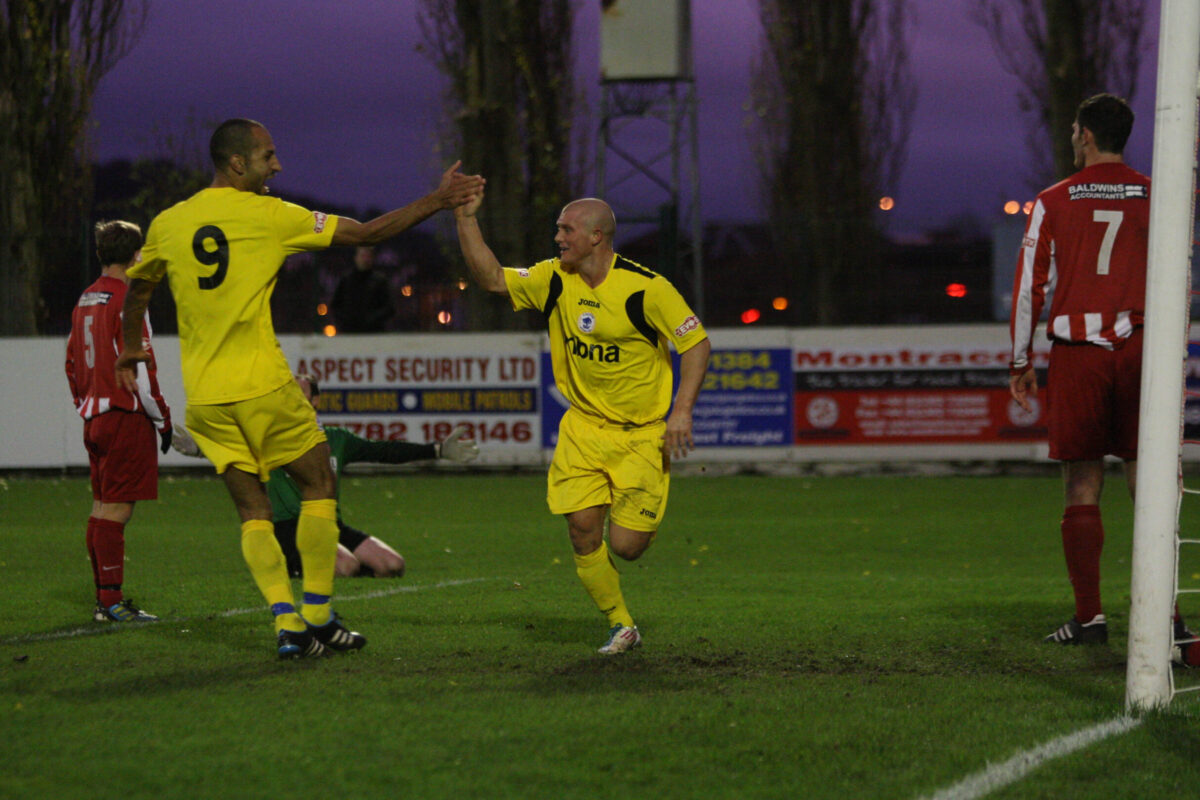 THE BIG INTERVIEW | Iain Howard
For his stag do a few years ago Iain Howard ended up in Prague in full Chester kit, including shorts and socks.
"My mates thought it would be funny," he says. "It was the middle of March and I was freezing."
It's the only time he's been less than thrilled to pull on the shirt, as he has only great memories of his time with the Blues. Among supporters the feeling is mutual – the term "fans' favourite" could have been invented for Howard, who scored 35 goals for the Blues in 76 starts. It's a phenomenal strike rate for a winger and he was a shoo-in when the Team of the Decade was selected.
Yet Howard, who was part of three successive promotion winning squads, admits he was never really sure of his place and it ended up putting strain on his relationship with Neil Young.
The former Manchester United academy player arrived from Ashton United, sporting a sharp skinhead shave, shortly after Chester reformed.
"The call from Neil came out of the blue but when I was told nearly 1,000 season tickets had been sold it was a no-brainer," he says. "The club had a good history and it was a chance for me to play in front of good crowds. When I came to have a look at the stadium the pitch was unbelievable for that level. I had a really good feeling about the move and even at the friendlies the atmosphere was brilliant. I loved the buzz. There were lads coming and going but I felt comfortable. I knew straight away we had a decent team. George Horan and Michael Wilde, especially, made a big impression on me."
His lasting memory of that first season is the final, crazy day at Garforth when promotion so nearly slipped through the fingers.
"It was a train wreck," says Howard. "We lost concentration during the game. I never wanted to win a league like that again, but getting over the line gave us confidence to kick on. The next two promotions seemed a lot more comfortable."
At the time Howard, who was training to be a plasterer, was travelling from Manchester. He ended up car sharing with Bradley Barnes, Antoni Sarcevic and Chris Simm.
"We had some fun and games," says Howard. "Simmo isn't the full shilling. I remember him turning up in his girlfriend's diamond sunglasses, thinking he was cool. The car share is part and parcel of non-league. You make great friendships and I still speak to those lads. Whoever's car it was got to choose the music. Simmo was into absolutely terrible stuff, which I can't even describe. Sarcevic is a great lad – he loved being at Chester. He got his head down and got the rewards. Brad is still a mate.
"It does help when you are winning games but we had some tight groups at Chester and I was fortunate that I managed to stick around for three seasons."
Despite all the success and his popularity among fans, Howard was under no illusions that his place in the side was secure.
"I reckon that Neil Young tried to replace me five or six times, but that's just part and parcel of football," he says. "The manager was always trying to improve the team. I did find it frustrating at times but how can you argue with three promotions?"
Matters came to a head in his final season with the Blues, in National League North, which Howard began by scoring the winner at Oxford City. However, as the campaign progressed he found himself in and out of the side. At one stage he was offered a transfer to Fylde, which he rejected.
"I got a phone call to say a bid had been accepted," he reveals. "At the time it did put a strain on my relationship with Neil. Maybe I didn't handle it the best at the time, but there are no hard feelings and I hope he feels the same. Neil brought me to Chester and I will forever be grateful for that.
"Looking back I do feel I had a bit more in my locker and it would have been nice to have had a crack at the National League. Age was still on my side and I was still scoring goals."
As it happened Howard moved on to Stockport County at the end of that season, clutching a third title winning medal and reflecting on favourite moments including a hat trick against Stalybridge Celtic in a 6-2 win. One was a spectacular scissor kick, while he's also proud of a brace against Lancaster City, featuring a cute dinked finish.
An end of season squad trip to Magaluf, to celebrate the second promotion, is an off the field highlight but all he will reveal is that the trip was lively!
Howard, 33, who hung up his boots three years ago and hasn't kicked a ball since, is now the father of an 18-month-old boy and operates his own property renovation business.
"I feel football has run its course for me but I can't wait to bring my lad down and show him Chester," he says. "It was an absolute joy to play for the club. I loved the people there and it turned out to be a really good fit for me. I was so lucky to play in front of fans like that, week in week out, for three years. I have memories I will cherish for life."
The Big Interview with Iain Howard is courtesy of Adrian Lee.