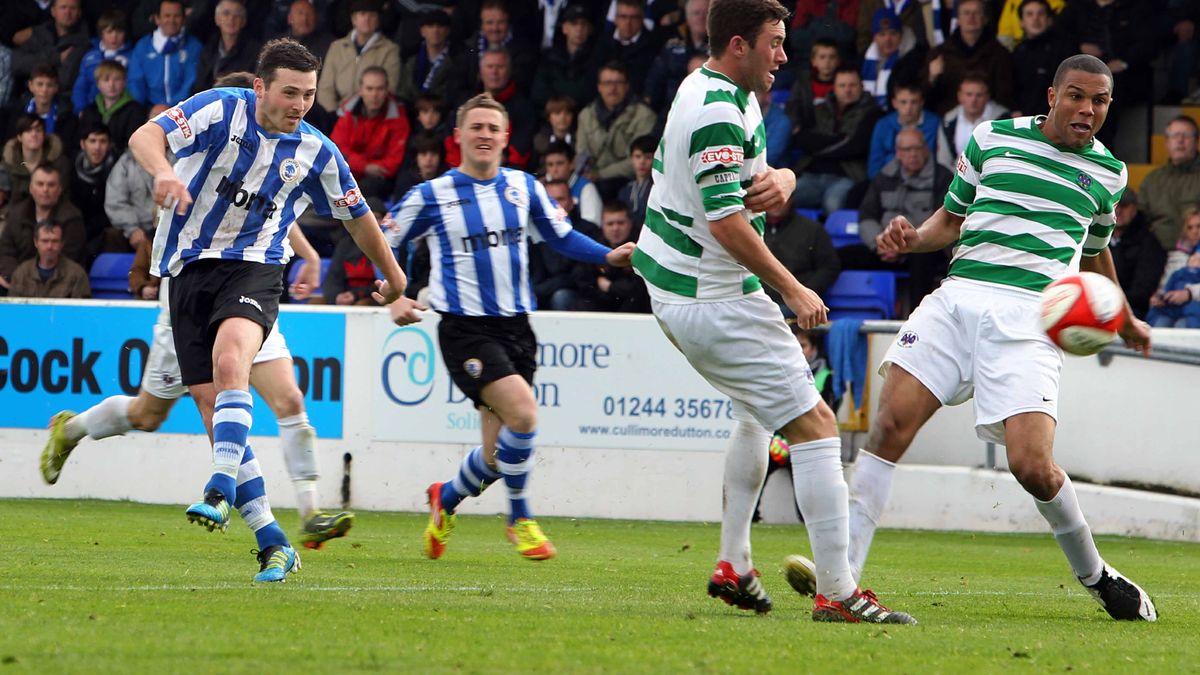 THE BIG INTERVIEW | Matty McGinn
In the eyes of many fans it's the greatest goal since the club reformed a decade ago.

The clock is ticking down and in front of a full house the Blues are desperately seeking an equaliser against title rivals Northwich Victoria.
Given the freedom to push forward, Matty McGinn cuts inside and unleashes a thunderbolt, which arrows into the top corner. Cue absolute bedlam.
"In the melee I got head butted by Michael Powell," recalls McGinn whose goal scoring record was phenomenal. In 84 games for the Blues he scored 22 goals, mainly rampaging from left back, and he was a shoo-in when the team of the past decade was announced.
The former Everton schoolboy dropped two leagues to join Chester from Southport, initially on loan, in August 2011. He announced himself with a flurry of goals and quickly forged a formidable partnership with Iain Howard on the left.
"I was struggling to commit to the travel in the national league and although I didn't know Neil Young it was obvious Chester were a team on the rise," says McGinn who was a trainee electrician at the time. "Everything about the club was class – from the players, to the stadium and the pitch. There was an expectation that we were going to win the league."
In his debut, in front of 3,000 fans, he scored a penalty in a win under the lights against FC United of Manchester. Another goal followed in a 5-1 rout of Stocksbridge but the Blues' early season form was patchy, culminating in a shambolic 4-1 defeat at Nantwich. McGinn isn't betraying dressing room confidences when he reveals that there were harsh words. Kick up the backside delivered, the team went on a long unbeaten run and never looked back.
"There was a real energy about that team," says McGinn. "The style suited me because I've always loved to get forward. If I went past Iain Howard I always knew he would cover for me. There were some big characters, like George Horan, Simmo (Michael Simm) and Alex Brown, and plenty of experience."
From the end of January until the second week of April the Blues won 11 out of 12 league games and stood 11 points clear of Northwich, the next visitors to the Exacta. Everything was set for an Evostik Northern Premier League title party, but with more than 5,000 inside the ground matters didn't go to script. With 81 minutes gone the champions elect were a goal down and McGinn was pushed up the pitch.
"Liam Brownhill came on and I moved into left midfield," he says. "We were pushing and pushing. Powelly, who's still one of my best mates, keeps reminding me that he won a tackle and the ball came out to me on the left wing. I cut inside and I just thought 'let's go for it'. As soon as I saw the ball travelling I knew it was in. There's a clip of the goal on You Tube and, you know what, I do show that to people!"
Some still swear the ball took the merest of deflections off a defender's boot, but McGinn is having none of it.
"No-one's taking that one away from me," he insists. "No chance! Look at the flight of the ball. When it hit the net I didn't know where to run, and I ended up heading off towards the main stand. When I think back I don't know why I didn't go to the Harry Mac. God, it was wild on the pitch and in the dressing room. Jimmy the kit man got soaked.
"I remember doing a TV interview straight after the game. We still had three more games to play and I was saying how we wouldn't take our foot off the gas. Next second, the camera pans down to a bottle of Bud in my hand."
The Conference North was expected to provide a sterner test but proved to be something of a cakewalk. The title was won by 16 points and 103 goals scored.
"It is a tough league but it felt easy that season," says McGinn, who has won it three times with different teams. "After promotion we needed to strengthen, and Youngy got it right. Nathan Jarman came in who was physical, worked really hard and had an eye for goal. Danny Williams, Dave Hankin and Dom Collins were all great lads and good to be around. Sarcevic was still there and you could see he had a good future.
"We tried to get the ball down and play but we could adapt and go longer when we went to places like Bradford (Park Avenue) where the pitch was a bog. We just had an all-round brilliant squad. I think we would have done well in the National League."
Sadly, for a variety of reasons, the squad broke up. McGinn was among those who left, still unable to devote the time needed.
"I was still at college, in Knowsley," he recalls. "I would have loved to have given it a go with Chester for another season, and there was an offer, but it was never going to work out. From the start of my career my Dad, who hates football, always drummed it into me to get a trade. I do sometimes wonder 'what if…' but I don't really have any regrets.
"Playing part time in the National League is a massive commitment. You've got lads who are up for work at six or seven in the morning then getting on a coach to go to places like Dover."
McGinn headed to Telford to reunite with his former manager Liam Watson, picking up another Conference North title medal. Following a shoulder injury he ended his career at Welsh Premier League outfit Airbus, including a couple of Europa League games overseas in Norway and Croatia.
Fittingly, in his last game in a Chester shirt in the All Stars fundraiser in 2018 he signed off with a goal from the penalty spot, mirroring his debut. These days he's a fully-qualified electrician, who works on the set of the Channel 4 soap Hollyoaks, but still turns out for a veterans' team in Skelmersdale.
McGinn is the father of two boys, aged two and four. He reports that both are football daft and have a sweet left foot.
The Big Interview with Matty McGinn is courtesy of Adrian Lee.